First and most importantly, THANK YOU to anyone who has bought Vignette, told a friend about it, given it a spin, or otherwise had a think about it. The response to Vignette has far surpassed my wildest dreams and I have you to thank for that. 💙
A week after its [quiet] release, and just under a week after its public release, I wanted to spend a moment to take stock of the last several days.
Vignette Updates
By the time I started my full-court press… press… Vignette was already on its second version. Since that time, I've released:
2019.3

Full resolution images from Twitter
Fix a problem where Instagram was not recognized when it had a trailing space
Fixed an accidental bait-and-switch
Improved security

2019.4

Dramatically improved Facebook support; the following are now supported:

The hot garbage original requirement of fb://profile/1234567
casey.liss
https://www.facebook.com/casey.liss
https://facebook.com/casey.liss

Fixed a bug wherein default Twitter images were suggested
Vignette keeps the screen on when plugged in to prevent sleep-related issues
Forthcoming:
2019.5 — currently in testing

For all services but Gravatar, Vignette will now look at any URL it can find on a contact, rather than only looking in Social Profiles

This will also get around Social Profiles not existing for Exchange users.

Improved networking detection

The app will automatically start a search on launch if Wi-Fi is detected
If no Wi-Fi is available, users can elect to perform a search over cellular

New close button in the selector modal
Fix for a layout issue in the onboarding screen
Fix for very long usernames in the selector modal

2019.6 — currently in development; no guarantees here!

Add support for Github profile pictures
Fix for some of the first onboarding screen text getting cut off
Better Facebook default image detection
Accessibility escape gesture for the old avatar preview modal
Under-the-hood improvement to the way I'm managing queues
2019.5 will be released once I get it in front of my Test Flight users for a couple days. It's currently sitting and waiting for review from Apple. 🙄
2019.6 will probably be a mid-June release, if all goes to plan.
Revenue
I'd love to tell you I'm diving into my Scrooge McDuck swimming pool, but… App Store Connect isn't really telling me much of anything at the moment. 😭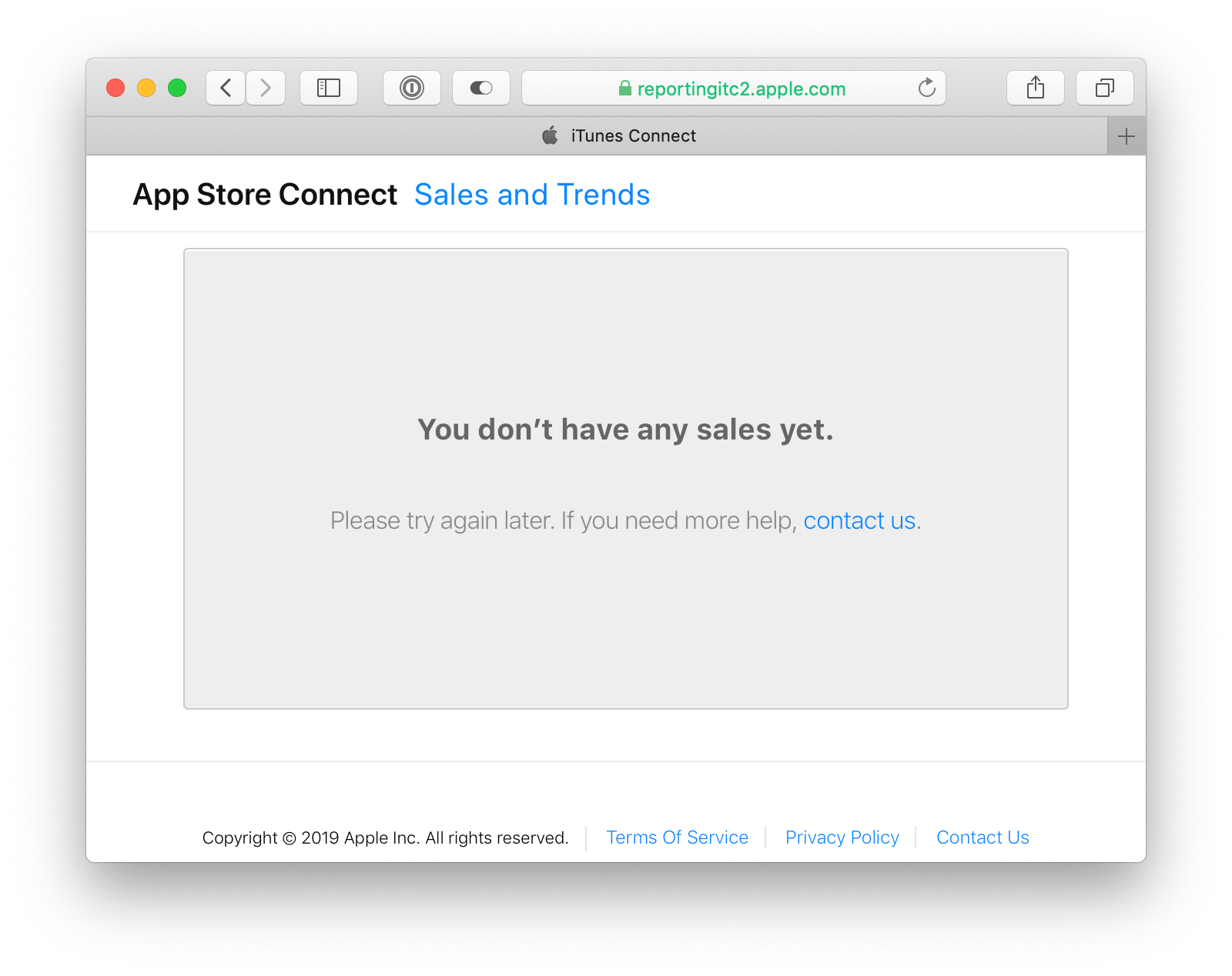 I've reached out to Apple in a couple of different ways to attempt to get this fixed, but nothing yet.
To be honest, I don't intend to release revenue figures, but I am hoping to call a little more attention to this extremely frustrating App Store Connect bug.
Press
I've been extremely lucky to get some really incredible press coverage about Vignette. Mostly for my own posterity, I wanted to capture the articles I've found/seen:
General Thoughts
Overall, I really am overjoyed with how the launch has gone. It hasn't been problem-free, but it's gone so much better than I expected. I'm hopeful to get 2019.5 out the door prior to WWDC, but either way, I suspect I have a busy summer of iOS 13 updates ahead of me.