As with all ideas, it starts with a question:
Could I get new pictures for all my contacts on my iPhone off Gravatar?
That was early February. I was just goofing off and seeing if I could make that work at all.
Then more questions came:
Could I do this for Twitter as well? For Instagram? For Facebook?
About three months later, Vignette is here.
Introducing Vignette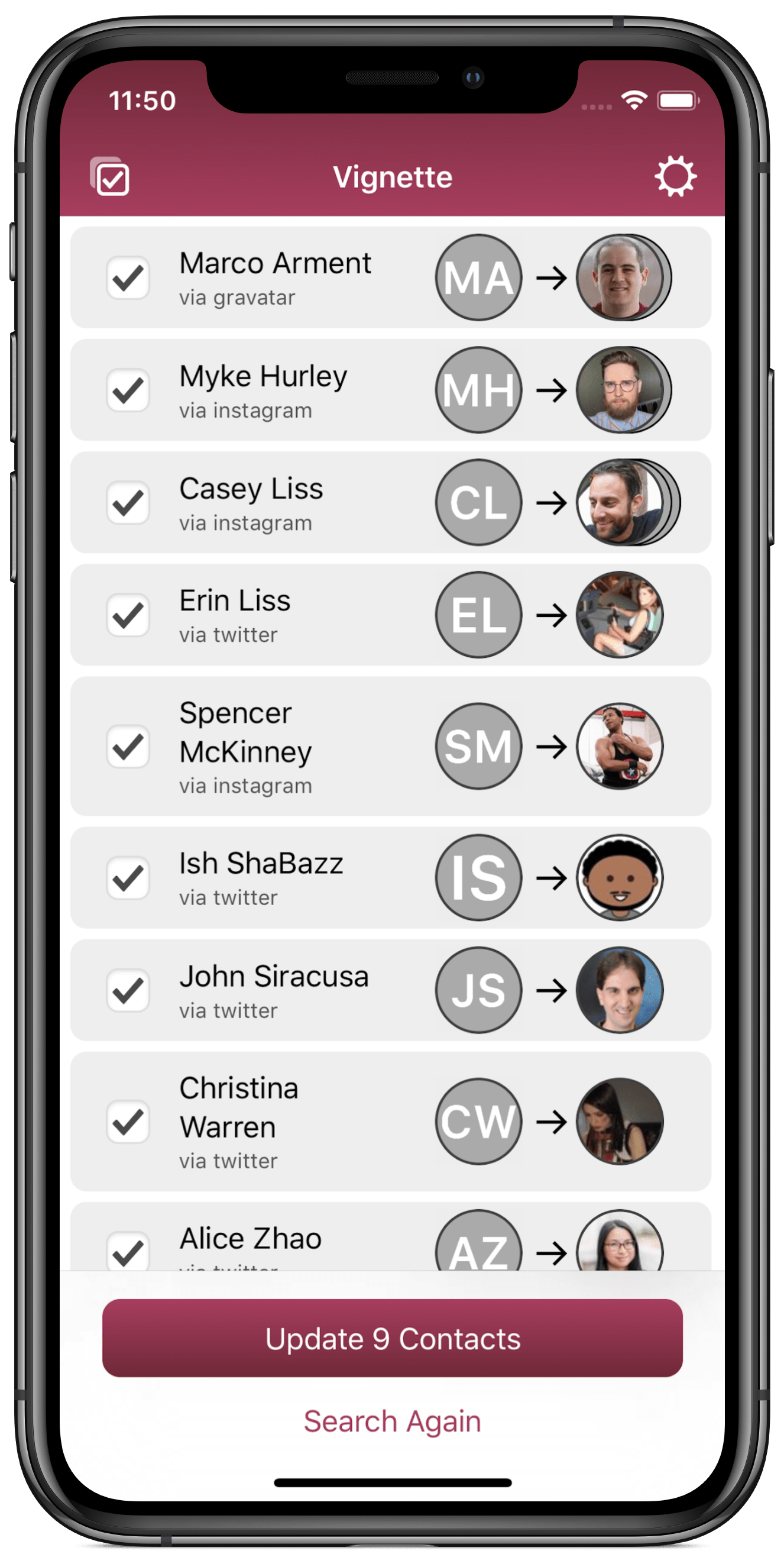 Vignette allows you to add photos to your contacts by searching public social media profiles. If multiple options are found, it's easy to select the one you wish to use. If the existing image is special or more representative of the contact, it can be kept.
By default, within a few minutes, you can add tens or even hundreds of images to your contacts.
In summary, this is the change that Vignette will enable:

Vignette's development was driven by a few core tenets. I have a clear idea of what I'd like Vignette to be. These tenets drove its development:
Privacy is paramount
All the processing is done on-device; this isn't the sort of app where your contacts are uploaded en masse to some server, and out of your control.
You are the customer
It's gross to steal users' contacts and sell that data. My customer is you, not some business I'm selling your contacts to.
Keep it simple
I already have lots of ideas for how to make Vignette more robust and even more indispensible. Over time, I hope to add a bunch of those features. But Vignette is designed to be a tool, not Facebook.
Making Money
Vignette allows you to scan your contacts and see what it can find for free. If you wish to actually save these updates to your contact list, you must pay for a one-time in-app purchase. That purchase costs $4.99, is not a subscription, and is the only in-app purchase.
My hope is to keep developing and improving Vignette over time; that is made possible by the financial support of in-app purchase. Well-wishes, kudos, congratulations, and word-of-mouth all help quite a bit, but they don't pay the bills. :)
Using Vignette
Vignette works by scanning your contacts and seeing what information it can amass about their social media presence. That means that Vignette is only as good as the information you provide to it.
Apple's Contacts app actually allows you to provide this information, even though it isn't entirely obvious at first: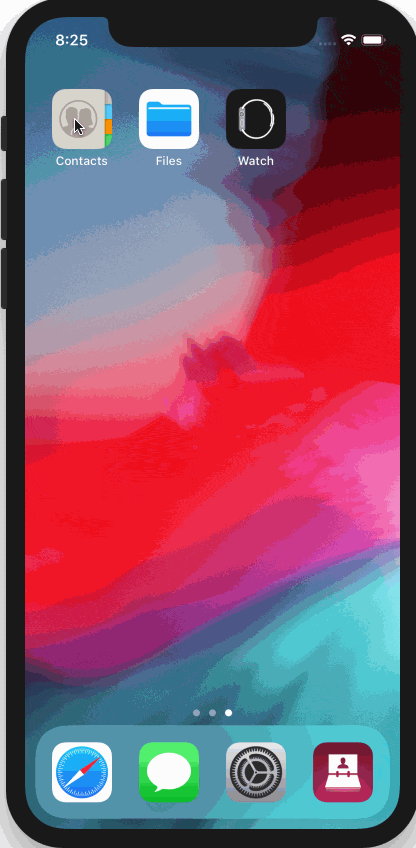 Vignette will look at the following fields:
Email is used for Gravatar
Twitter
Facebook
A custom network called Instagram
Over time, I hope to make discovery for these existing services more robust, and potentially begin to support other services, as well. That said, for now, my priority is to make all this possible without requiring you to log in. I much prefer having Vignette only use social networks anonymously to prioritize privacy.
Why Now?
Vignette is the first new project I've undertaken since going independent. I've been working on the things I had already been doing, like Casey on Cars, but Vignette is the first project both conceived and completed while indie.
I've been working on it feverishly for months, but a recent report really lit a fire under me. I really wanted to get Vignette out the door before WWDC, and I'm overjoyed to have made it, with over a week to spare.
Some Initial Coverage
Naturally, I have and will be talking about this on my podcasts. Myke and I have recorded episode 157 of Analog(ue) where we've discussed the lead-up to the launch.
Additionally, [the currently forthcoming] episode 327 of ATP will surely include some commentary.
Thank You
Please download Vignette and see what you think of it. If you're willing, I'd love it if you'd buy the in-app purchase. Or tell your friends about Vignette. Or both!
Additionally, my thanks to Ben McCarthy, Daniel "Jelly" Farrelly, and Ste Grainer — among others — for their noteworthy and incredibly helpful contributions to Vignette.