The Grand Tour, spiritual successor to the BBC Top Gear that we knew and loved, has set a release date of Friday, 18 November:
The show is filming in different locations across the globe; they film in California the weekend of 24-25 September. I was actually interviewed via phone to potentially win tickets to the show, but more on that later.
The show will be broadcast on Fridays on Amazon Prime. Unlike most other online-only shows, particularly popular Netflix shows like House of Cards and Orange is the New Black, The Grand Tour will not be released in one large chunk. One episode per week, for a few weeks.
We've also found out a little bit more about The Grand Tour. According to Jalopnik, there's a plethora of things that can't be said or done on the new show:
No Stig
No handwritten leaderboard
No test track
Possibly no use of the word "🐔" by James
On the plus side, according to series producer Andy Wilman in the video Jalopnik discovered:
The Grand Tour will be filmed in 4K
There will be twelve episodes "per year"; not sure if that's per season or per annual year. I'd guess the latter, which means 6 episodes per season.
The contract is presently 3 years, so that means 36 new shows (!)
---
About that interview.
On Friday, 2 September, I received the following email: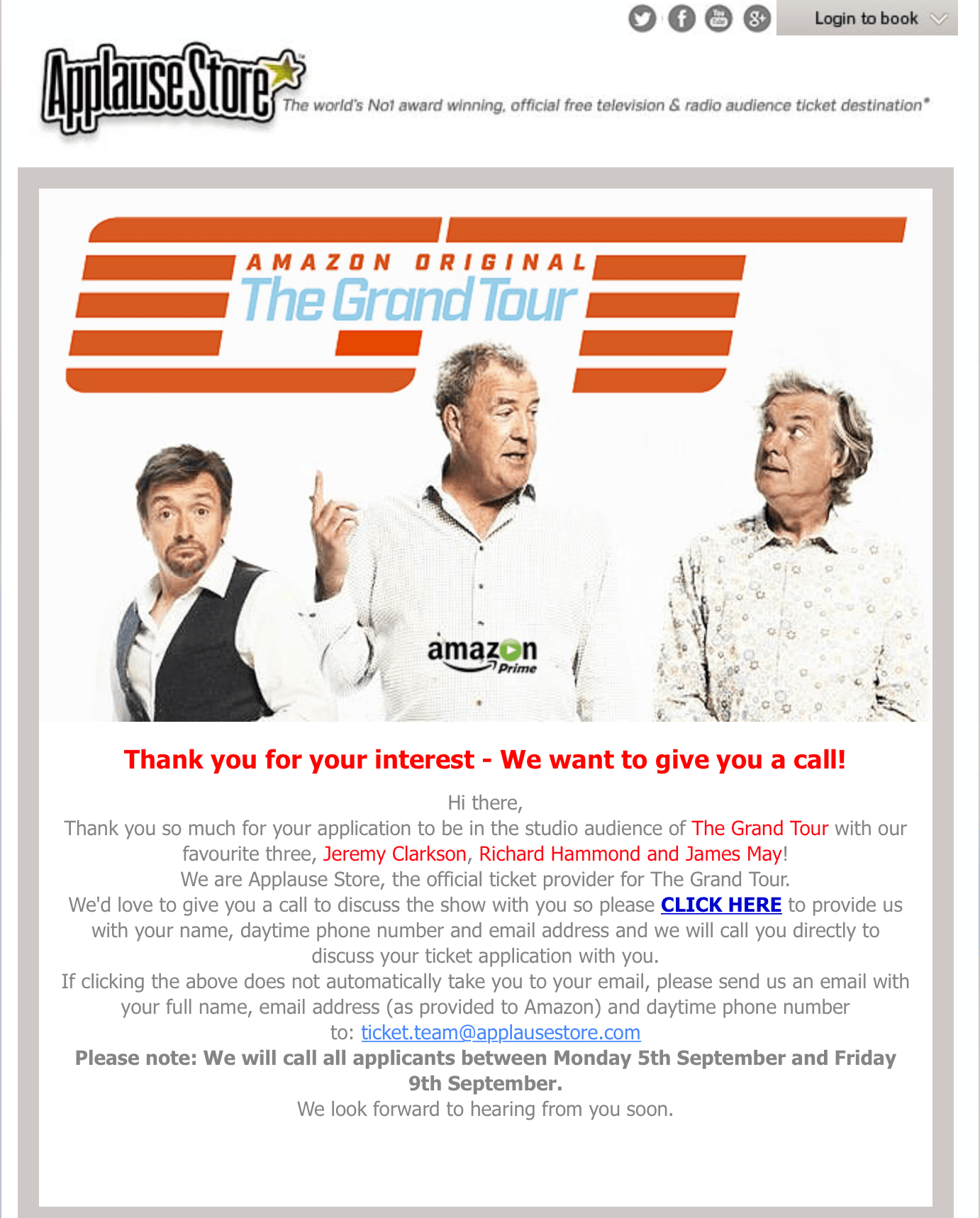 It asked me to provide contact information so that someone from the Applause Store (which also handled tickets for Top Gear) could call me ring me up and talk. On the following Monday, which was Labor Day, I received a call from Unknown. That call was from a very lovely British lady; it lasted six minutes.
I was asked a variety of questions. Some made sense, others were odd. The ones I remember:
Would you consider yourself a big fan of Top Gear?
What do you like most about it?
Have you seen the new Top Gear, with the new cast?
Have you ever been to a car show?
Have you ever been to a music festival? (ಠ_ಠ)
I see you're in Virginia. Could you be in southern California the weekend of 24-25 September, on two weeks notice?
Who would you bring with you? (I suspect this was to ensure gender parity)
What's your favorite car?
I gave the best answers I could. I did make mention of Top Gear Party, but neglected to mention my vanity license plate is inspired by one of the members of the show. I did my best to sell myself, without being too over the top.
I never heard back from the Applause Store, so it sounds like I won't be making an emergency trip to Southern California.
That's me on the left.
You can't win 'em all.
Nonetheless, I am super pumped for November.