Today marks the end of an era — FinalGear.com is ceasing to operate in the way fans like myself would recognize. From the site's creator:
In July 2014, we received a DMCA take-down request for all Top Gear UK, US, and Australia torrents from FACT, a British trade organization representing the BBC. While I suspect that FACT acted on their own rather than at the request of the BBC, we still must honor their request to take down the content that we have been hosting for over 10 years now.
I have decided to just retire the main site and redirect traffic here to the forums. Fifth Gear is a great show but it isn't worth dedicating a whole website to. I also don't want to try to keep an episode directory going as it's a lot of work and Wikipedia does a much better job at it. For the countdown timers, there's other great sites out there such as TV Calendar.
Final Gear will forever hold a special place in my heart. To understand what Final Gear meant to me, you need to understand what Top Gear means to me.
Top Gear
Top Gear is, ostensibly, a car show. But it's so much more than that. In fact, I can't really pinpoint what it is, exactly. The easiest way to describe it is a comedy show themed around cars. A great example is the amphibious car challenge, wherein the three hosts were tasked with creating amphibious cars from scratch. It was both interesting and hilarious:
Despite all that "cocking about", Top Gear can also be serious, if it wants to be. In 2010, they put together a tribute to F1 racing driver Ayrton Senna. Even as someone who doesn't get the draw of F1, the piece was absolutely touching:
That said, my favorite Top Gear episodes are the races. There have been many, and every one is marvelous to watch. More often than not, they're completely contrived. I've never cared.
Perhaps the best example of this is the Top Gear Polar Special. In it, the less-fit hosts, James and Jeremy, raced the third host, Richard, to the North (magnetic) Pole. James and Jeremy were in a heavily modified Toyota Hilux, Richard was in a dog sled. The race was clearly incredibly grueling. The exasperation you began to feel as the episode documented their journey was palpable.
Further, as with every episode of Top Gear, the cinematography is top-notch, and the music is wonderful. The Polar Special is, in my estimation, the pinnacle of the series.
---
Top Gear is at its core, a show about cars. It is possibly best known for the car reviews. The Ariel Atom is a wonderful example:
Top Gear is a wonderfully fun show, which is far deeper than you'd expect, looking at face value.
---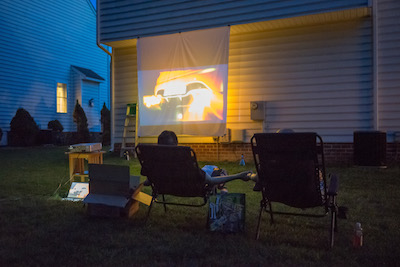 It's become a staple in not only my life, but Erin's as well. Our Sunday afternoons when the show is in season are scheduled around Top Gear. Moreover, when they were starting new seasons (in UK parlance, a "new series") in the summertime, Erin and I threw a "Top Gear Party" every year. We would have all our friends over, grill hot dogs and hamburgers, and once the sun went down, watch the show projected onto the back of our house. Our summers were largely defined by when Top Gear was starting again.
Final Gear
I first got exposed to Top Gear late in my college career; roughly 2003 or so. At that time, iTunes video wasn't a thing. I was immediately hooked and thirsted for more. At the ripe old age of 21, I had… less complex thoughts… about how to acquire media. I quickly found my way to Final Gear. On Final Gear, one could find torrents for not only new episodes, but past ones as well.
My thirst both quenched and intensified, Final Gear showed me the way to shows I never would have heard of otherwise. I found Fifth Gear, another wonderful UK motoring show hosted, as it turns out, by some Top Gear alumni. I discovered the short-lived Top Gear Australia; I followed the long journey of bringing the much-maligned but still enjoyable Top Gear America from concept to presently-running show.
When I heard an incredible song on Top Gear — which happened more often than one would expect — I would want to know what it was immediately. Thanks to Final Gear's What's That Song? forum, I could find the answer within a day or two of the episode airing. I wouldn't have discovered Ludovico Einaudi without Final Gear.
While I didn't spend an overabundance of time on the forums that have become the Final Gear site, I did lurk there from time to time. I knew the regular faces. Imagine my surprise when I saw one of the site's administrators tweet at me. I was completely star struck when he did; much more so than I'm sure Daniel was in talking to me.
Though I was mostly a lurker, I was overjoyed when I heard that Richard had received the helmet that the forum had sent him. Even though I wasn't involved in the process, well, at all, I felt like I had sent him that helmet. I was amazed when I heard that Viper, the site's creator, got to go to a taping and confirm that some on the Top Gear staff read and loved the forums. It felt like one of us was there, talking to the show's stars and producer.
---
This summer, Final Gear received a DMCA notice. No one was surprised by it. Nevertheless, it marks the end of an era.
So, thank you, to both Top Gear and Final Gear, for the hours of enjoyment you've provided me.
My life would genuinely not be the same without that show, or that site.