Over a year ago, Erin and I collaborated to come up with a list of baby stuff we use. Now that Declan is a bit over a year and a half old, we thought it was about time for a new version. Here we cover toddler-related things.
The disclosure from last time applies again here:
This is not a Wirecutter-style "this is the best available" sort of post. Unless otherwise noted, while we did extensive cross-shopping, we didn't buy alternatives. If you're looking for that kind of a post, try Marco/Tiff's or The Night Light.
So, the Declan-approved stuff:
Travel Crib — Lotus Travel Crib — $210
Since the baby stuff post, we've been on two plane journies with Declan. During those trips, we didn't want to bring the full-size Pack 'n Play. A coworker recommended the Guava Family Lotus Travel Crib. The key to this crib is that it folds up to be carry-on size on the plane. It also has a side zipper so it can be used as a play area.
Baby Gate — North States Supergate — $50
Once Declan was crawling, we didn't want to have to hover over him. We bought two of these baby gates; one is at the top of the stairs, and one is in the downstairs hall leading to the stairs. The gate is easy to install, and easy to open or close one handed. Further, there (shouldn't) be any permanent damage to the walls, as they work by tension rather than screws or equivalent. I've wrenched on ours really hard, and it hasn't moved a millimeter.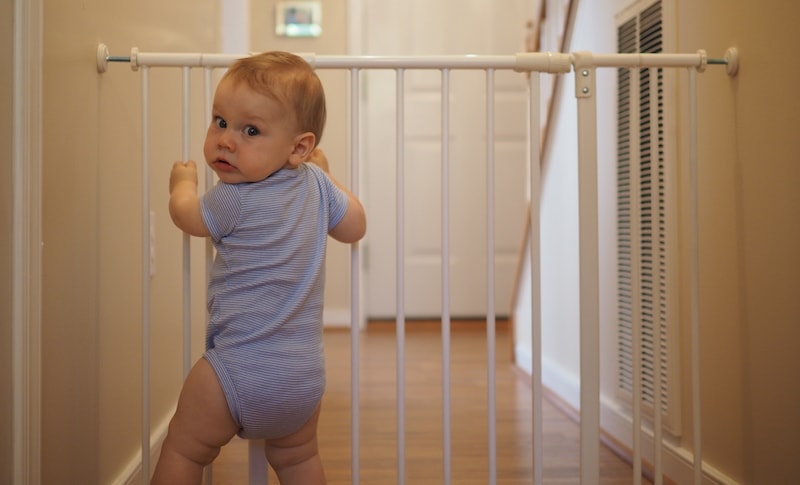 Cabinet Locks — Magnetic Safety Cabinet Locks — $20
Being mobile now, Declan loves to get into all our below-the-counter cabinets. Naturally, we wanted to lock them, but wanted to do so in such a way that they don't look any different from the outside. Erin found these ingenius cabinet locks that work via magnets. You put the "key" up against the cabinet, where the lock is on the inside, and it forces the lock to unlock. It makes me smile every time, and the locks have withstood Declan pulling on them with all his might.
Pillow — Little Sleepy Head Pillow — $20
Erin noticed months ago that any time Declan was around a pillow; say a throw pillow on the couch downstairs, he loved putting his head on it. She found the Little Sleepy Head Pillow online, and Declan loves it. Roughly half the size of a throw pillow, it's the perfect size for his little head. When it was new, it was just a touch thicker than we would have liked, but Declan has always loved it.
Sleep Sack — HALO SleepSack — $20
When Declan was a baby, he loved being swaddled. Eventually, he grew out of the swaddlers. To this day, we're clinging to the SleepSack. Declan is a very mobile sleeper, and these seem to work well for him. However, he's currently in an extra large, which means our time is running out. Keep us in your thoughts.
Milk Cup — Munchkin Miracle 360 Trainer Cup — $12
Once Declan seemed capable of holding a cup, we tried to encourage him to do so. Since that time, we've consistently used the Munchkin Miracle cup. It's generally spill-proof, and he has never had any issue drinking from it. The only catch is, you really need to ensure the colored rubber lid is on properly; if it doesn't seal, the contents will spill everywhere. I've found if I push down on the center a few times, that does the trick.
Water Cup — Munchkin Click Lock Flip Straw Cup — $6
For water, we really like the Munchkin Click Lock straw cups. When assembled properly, they don't leak unless you really mess with them. That said, it is annoyingly easy for me to assemble them just slightly wrong. Nonetheless, these cups work really well and Declan has been using them for months.
Snack Cup — OXO Tot Flippy Snack Cup with Travel Lid — $6
We also tried the Munchkin Snack Catcher, but it didn't take long for Declan to figure out how to take the lids off of those. Once the lid was off, the contents got everywhere. Our experience has been far better with the Oxo Tot cups. Declan can't get the lid off, and doesn't have problems getting the contents of the cup out.
Disposable Bib — Bibsters Disposable Bibs — $11
When we go out to eat, which we've done probably once a week since Declan was able to sit in a high chair, we've always used these bibs. Much easier than taking a bib from home that must return there; these are disposable. They are made of thick paper with a waterproof lining in the back, have a crumb catcher, and do the trick when we're out.
Disposable Placemat — Neat Solutions Table Topper — $16
We haven't gotten these exact ones, but we've used other Neat Solutions disposable placemats. Each of the four sides has tape on it, and you stick the placemat to the table at the restaurant. The strips that cover the tape are ostensibly made of static-cling plastic, but I'm convinced they're really rare earth magnets. Despite the super clingy strips, these placemats work well, and make cleanup easy.
High Chair — Graco Blossom 4-in-1 Seating System — $175
Far spendier than we'd prefer, we went with the Graco Blossom because it will grow with Declan. We're using it in toddler configuration; it's as pictured on Amazon, but without the insert for infants. The Blossom is sturdy, wheels around easily when we want it to, and is height-adjustable. Once Declan outgrows it as a high chair (which I suspect will be happening soon), we'll convert it to a booster.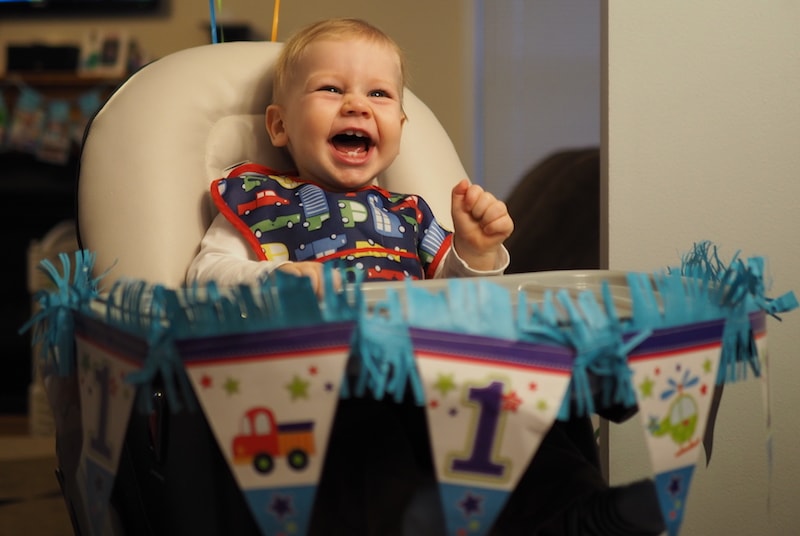 Stroller — Graco Aire3 — $180
We're still using the stroller from the travel system we bought when Declan was a newborn. However, the link above is for the stroller as a standalone item. We still like the stroller and use it nearly daily. For more, see the baby stuff post.
Walker — VTech Sit-to-Stand Learning Walker — $30
The VTech walker is probably most responsible for teaching Declan how to walk. He loved pulling up on this, and eventually pushing it around. Intrestingly, the little toy telephone handset on here may be the only exposure to a traditional telephone that Declan will ever have.
Exersaucer — Evenflo Life in the Amazon Exersaucer — $90
In addition to the walker, we wanted to get Declan something that he could use while stationary. The Exersaucer was that toy for him. Declan loved being in this thing. It allowed him to bounce, spin, and play with various toys. He particularly liked the globe, which has buttons on it that make noises. Once he eventually outgrew it, the Exersaucer can be deconstructed to form a sort of S shape that he can then walk up to and play with. He still plays with it occasionally to this day.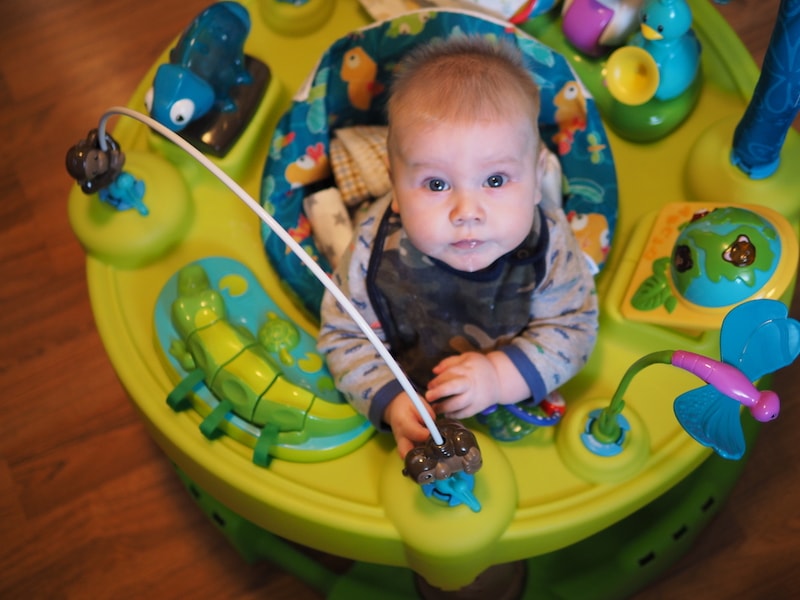 Solid Food Freeze Tray — Mumi&Bubi Solids Starter Kit — $26
Erin, because she didn't have enough on her plate, decided to make Declan's baby food herself. We did buy some from time to time, but the overwhelming majority Erin made by hand. In broad strokes, she would cook a fruit or vegetable, and then use a standard immersion blender to mash it. (Any baby-specific blenders seemed like a total waste of money and tend to carry huge markups.) Once the food was blended, she would put it in these food trays to freeze them in one ounce chunks. These now-frozen chunks can then be moved into ziplock bags and stored.
Car Seat — Graco 4ever All-in-One Car Seat — $300
Declan eventually outgrew his infant seat (but as mentioned above, not the associated stroller), and we needed to get him a new car seat. We opted for the Graco 4ever seat, which in theory is the only car seat we ever really needed to buy. It's designed to work from infants all the way through children in booster seats. We bought one for each car, and we haven't had any problems with it.
This post uses affiliate links where possible, but we've only linked things we genuinely use and love.