What with us having a new baby in the house, Erin and I have been asked quite a few times what baby stuff we're using.
Often, we'll just refer them to Marco and Tiff's really excellent baby stuff review. In fact, Erin and I used that very review when buying for Declan. If I were you, I'd take our recommendations, pair it with the Arments', and decide for yourself.
This is not a Wirecutter-style "this is the best available" sort of post. Unless otherwise noted, while we did extensive cross-shopping, we didn't buy alternatives. If you're looking for that kind of a post, try  Marco/Tiff's or The Night Light.
Since we originally wrote this post, we've now written a new one for toddler stuff.
Baby Monitor — Infant Optics DXR-8 — $160
Originally, we had recommended the $220 Motorola MBP-43. That unit was nice, and had the advantage of having two cameras. However, the power supply for the monitor died. Then we had to buy third party replacements because Motorola didn't sell first party ones. Those third party ones also died. Finally, after almost two years, the receptacle for the power supply dislodged and fell off within the monitor itself. Not good.
We replaced the Motorola with the Infant Optics, and can't be happier. Perhaps the biggest (and unexpected) benefit of the unit is that the monitor is powered by a standard micro USB cable. This means, unlike the Motorola, I can power the monitor from my laptop. Additionally, the software that powers the Infant Optics seems to be an updated version of the same software that runs the Motorola, which is a good thing. Finally, the Infant Optics includes a wide-angle lens, and a zoom lens is available, which allows a much crisper video than would be available digitally.
In summary, the Infant Optics has all the perks of the Motorola and, a few months in, none of the drawbacks.
Stroller — Graco Aire3 Click Connect Travel System — $250
This is a Babies R Us exclusive. A "travel system" means this package includes an infant carrier, stroller that the carrier plugs into, and a base for the car that the carrier plugs into. There are plenty of arguments for and against travel systems, but we really like this one. We chose it because we both have average-size sedans, and the stroller portion folds up easier and smaller than most of the competitors. Additionally, there is only one brake toggle, on the right side, instead of one per side. We also got to a second base, so each car has one. The only complaint I have is that there is no snack tray for Declan once he outgrows the carrier part; only a cupholder.
Mom's Diaper Bag — Eddie Bauer Meadowbrook — $40
We initially got this diaper bag. Erin loves it and I like it. It doesn't have hooks on the top at either end to hook onto a stroller, but on the plus side the main compartment is a cavern. Plus, it's unisex and the changing pad is spacious.
Dad's Diaper Bag — Tom Bihn Parental Unit — $140
As a surprise Christmas/Hanukkah gift, Erin got me the newly-released (and often reviewed) Tom Bihn Parental Unit. I have other Tom Bihn bags and get way more enjoyment out of them than I should from… bags. Regardless, I really dig the Parental Unit because it's durable, unisex, spacious, and has tons of compartments. Like Erin's bag, the Parental Unit could really use stroller hooks. Also, the compartments don't open quite as wide as I like. However, the fancier shoulder strap Erin sprung for is really comfortable, and the bag is easy to carry at the side or at your back.
UPDATE 25 June 2017: Recently Tom Bihn has updated the Parental Unit with a "version 2". The folks at Tom Bihn were nice enough to send us a unit to test out. While the Tom Bihn folks kept most of the great stuff about the Parental Unit the same, they did make a few improvements. Most notably, the new Parental Unit's main compartment opens far wider than the original Parental Unit. A small change, but an important one. I already loved our Parental Unit; now, I can't recommend the Parental Unit enough.
Portable Crib — Graco Pack 'n Play with Cuddle Cove Rocking Seat — $140
We got a pretty… involved… pack and play. Not only is it a portable crib, but it also has a bassinet and a changing pad. As it turns out, we only used the bassinet a couple times, but we use the changing pad constantly. Were we to do it again, we wouldn't bother with the bassinet, but I definitely recommend having the changing pad. Regardless, the whole thing collapses to be surprisingly small, with ease. (Ours is actually the "Brompton" color/pattern.)
Diaper Pail — Ubbi Diaper Pail — $90
While absurdly expensive for what is really just a glorified trash can, I really like the Ubbi. The big advantages are its steel (not permeable plastic) construction that should never pick up any smells, and it doesn't require special bags. Competing diaper pails such as the polarizing Diaper Genie can be much cheaper, but require expensive custom bags that I understand don't last very long. Additionally, some have reported that the stink from the diapers can permeate the plastic. We decided on the Ubbi and have been very happy with it. It takes any 10 gallon trash bag, doesn't let smells out, and is sturdy. The only complaint I have is that it's smaller than you would expect; that said, we only change the bag once or twice a week.
Snot Sucker — NoseFrida — $15
You use a tube and a crayon-like applicator to snuck snot out of your baby's nose. Totally gross. Totally works. There's filters between you and the snot, so it's not nearly as gross as you'd think. Well, that's what I tell myself, anyway.
Swing — Mamaroo Bouncer — $175-250
We got this mostly because I thought it was frikkin' cool. The seat bounces in five different ways, in five different intensities. Additionally, you can use some of the built-in ambient noises, or plug in a device like your iPhone and use the Mamaroo's onboard speakers. I love it. Declan… doesn't seem to care one way or the other. The Mamaroo is really nifty, but I'm not sure if it's really worth the money over a more traditional swing.
Infant Carrier — Evenflo Infant Soft Carrier — $15
There are other far more popular options, such as the Baby Bjorn, which we haven't tried yet. We also had a Baby K'Tan, but it was far more fiddly and we didn't care for it. The Evenflo is semi-easy to put on by yourself, and pretty comfortable for me once it is on. Declan seems content enough.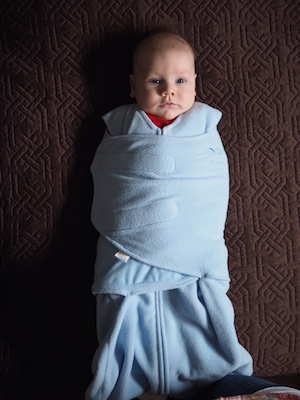 Swaddle — Halo SleepSack — $20
Babies love to be swaddled, since they just spent 9 months all wrapped up. We also tried the SwaddleMe, but prefer the SleepSacks. They do use really loud velcro, which is frustrating, but they are super easy to put Declan into. And he loves them.
White Noise — Sleep Pillow — $2
We didn't want a white noise machine, but we wanted a white noise emitter. We got this for my old iPhone 3GS, and it works well. There's probably better/nicer apps out there, but this was the first one we found. Bonus: it's on all our devices, so we always have our noisemaker with us.
Pump — Medela Pump In Style Advanced Backpack — $225
First things first: check with your insurance provider. They may provide you a pump for little or no cost to you. For us, we could have gotten the non-backpack version of this pump for free, but we paid a little extra for the backpack version. It's very nondescript, which is nice. The pump works well, and the backpack has plenty of extra space for the various paraphernalia you need, such as the shields, vessel to receive the pumped milk, etc. When in the car, we pair the pump with the power inverter we got years ago, to avoid wasting a zillion dollars on batteries. Conveniently, the inverter & AC adapter both fit next to the pump housing.
Pillow — My Brest Friend — $35
This is the only pillow we've owned, but Erin has tried the Boppy. Erin likes the humorously-named-and-seemingly-misspelled My Brest Friend. It buckles onto her so she can stand up and adjust it with one hand, while the other hand holds Declan. The My Brest Friend also has plenty of space for Declan; he's only now, at three months, starting to outgrow it. Furthermore, it's reasonably firm, which means Erin doesn't have to support Declan as he's nursing. I have doubts about the longevity of it — beneath the cover it's just pieces of foam glued together — but so far so good.
Activity Logger — Baby Connect (iTunes) — $5
Particularly early on after a baby is born, a parent's life is ruled by logging. How many poops did they have? What color were they? How many pees? When did they eat last? It isn't hard to feel like your life has come down to record keeping. Baby Connect is really unattractive. However, it works really well. Erin and I have each been set up as parents in the app (you can set up other kinds of caregivers as well). Every time Declan… performs… we log it in the app. This is nice just to aid in record keeping, but it's also a surprisingly nice way to feel a connection to them while I'm at work. I never thought I'd be excited to get a push notification when someone else took a dump, but, now I am. Life is weird.
Other Stuff — These items don't really justify extensive commentary, but we recommend them:
Avent Soothie Pacifiers — $4
Declan seems to like these more than the more traditional looking ones, and they're completely soft.
Munchkin Latch Bottles/Nipples — $20
Unbeknownst to me until we had Declan, when a baby nurses the way they hold their mouths open (the "latch") is not like an adult drinking from a straw. It looks more like an adult eating from an apple. The Munchkin system helps encourage a much bigger/wider/better latch.
Medela Steam Bags — $5
Quickly & easily sanitizes baby bottles, pumping equipment, pacifiers, and more.
UPDATED 2017-06-25 11:00 AM: Added blurb about the refreshed Parental Unit. UPDATED 2016-11-27 4:00 PM: Added Infant Optics monitor and removed Motorola.
UPDATED 2015-02-10 2:00 PM: Added Baby Connect.