Today, I'm overjoyed to announce the release of my latest app, Callsheet.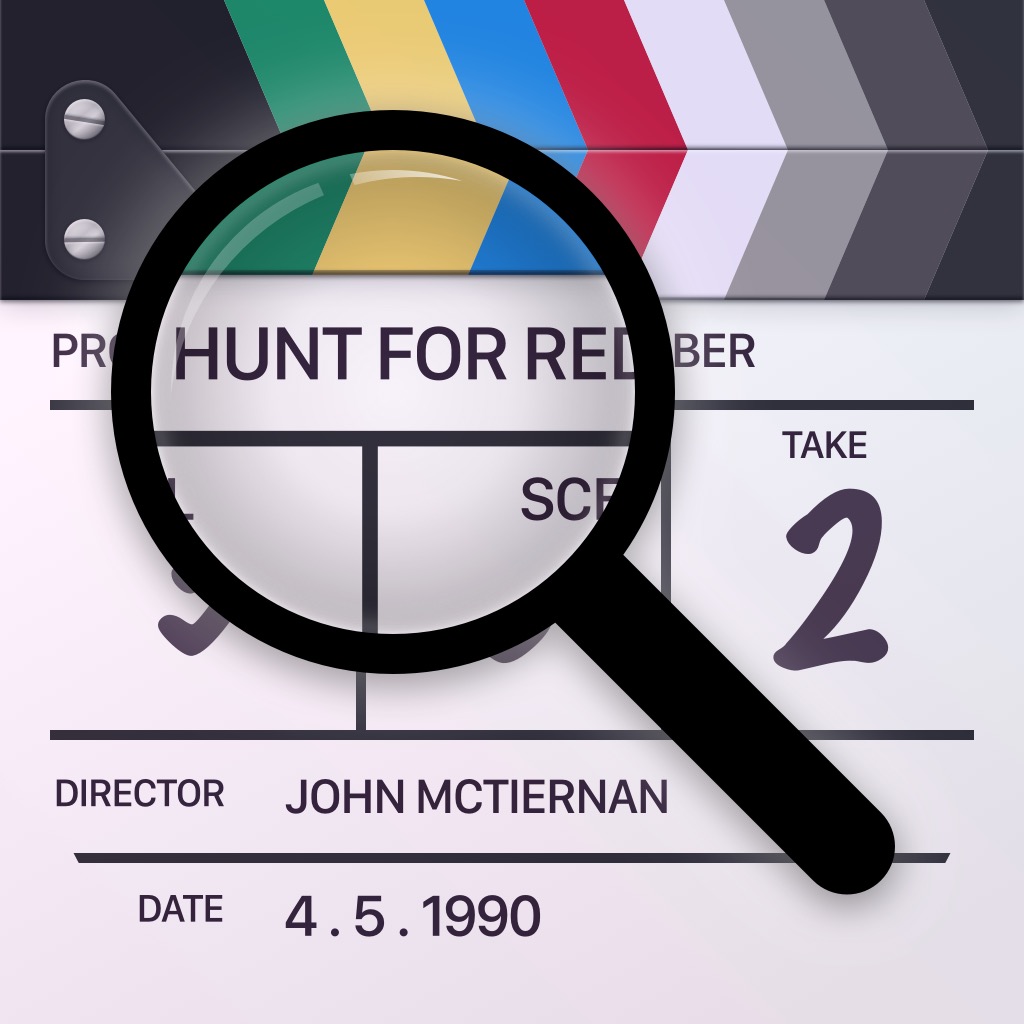 Callsheet, in short, allows you to look up movies, TV shows, cast, and crew. You can think of it as similar to the IMDb app but… with respect for its users. Which, actually, makes it not like IMDb at all. 🙃
When I watch a movie or TV show, I'm constantly trying to figure out who that actor is, who the director is, and so on. Early this year, I wanted a way to look this up that was native to iOS/iPadOS, but also fast, with no fluff that I wasn't interested in. I wanted a bespoke version of the IMDb app.
So I wrote it. It's called Callsheet, and I'd love for you to try it. Callsheet is a subscription-based app, and all subscription plans have a one-week free trial. Additionally, your first twenty searches are free, so you can really get a feel for it before you subscribe.
---
Some of my favorite features of Callsheet are quality-of-life improvements for me, and I suspect they will be for you, too.
My favorite features — other than Callsheet's speed — are the affordances for avoiding spoilers in TV shows. If you've seen the amazing TV series Watchmen, you'll know that there are characters with hidden identities. When I was watching the show back in late 2019, one secret identity was spoiled by that character's listing in IMDb.
Never again.
In Callsheet, you can optionally enable a series of spoiler-avoidance affordances: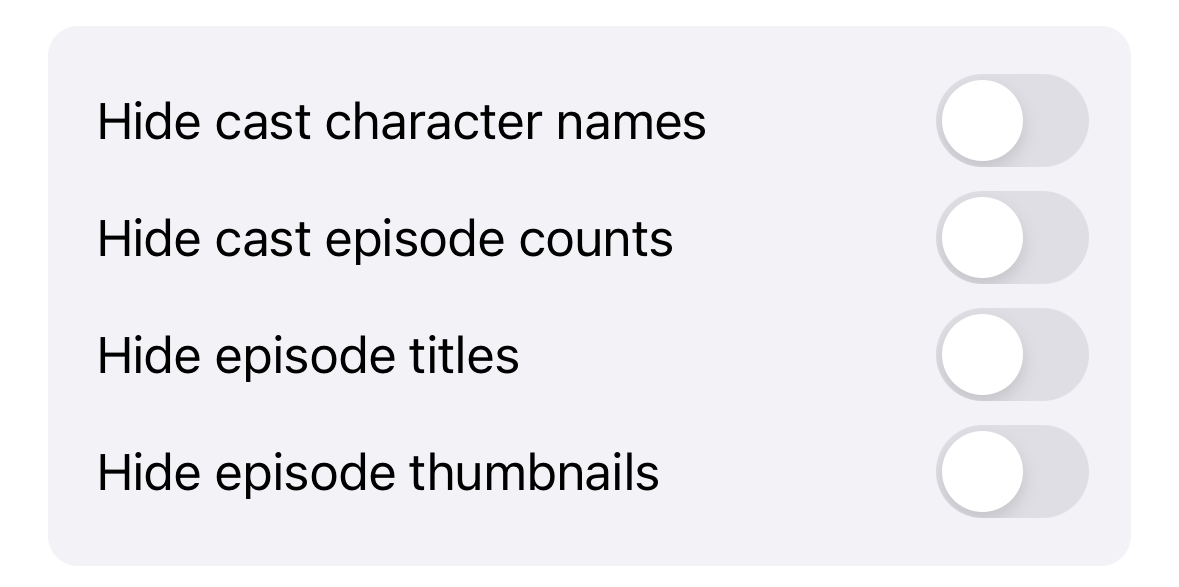 If I were to turn on just the Hide cast character names toggle, I wouldn't get spoiled on any secret identities: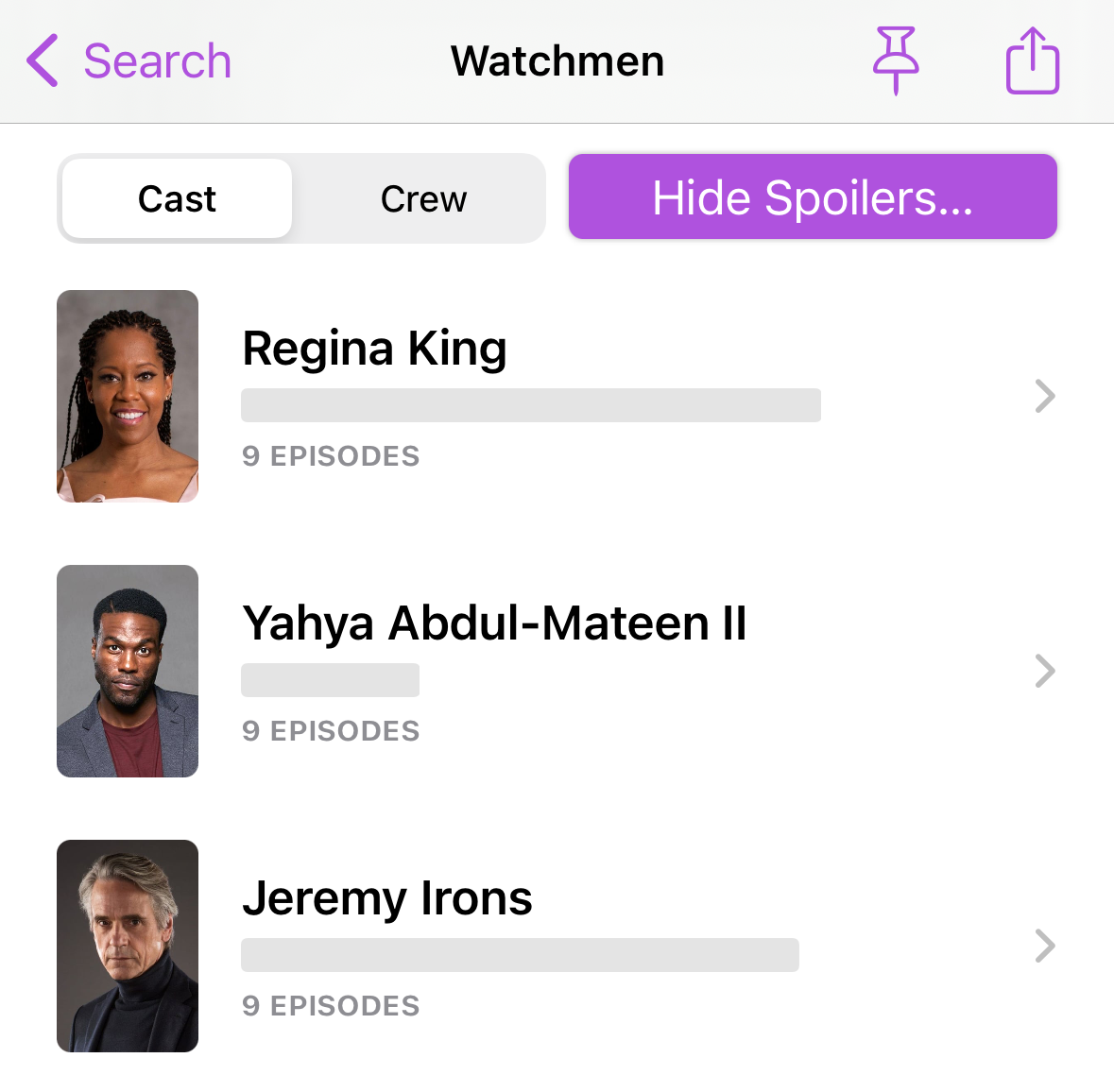 What if a character in a series is killed off after only one episode? If that actor only appears in one episode, that's a giveaway too. Hence the Hide cast episode counts toggle.
Furthermore, if you're looking at the list of episodes in a season, a poorly-chosen thumbnail or episode title could give things away. Those are covered with the Hide episode titles and Hide episode thumbnails options.
---
One of my favorite things to do when watching anything is to look at the trivia that IMDb offers. I hate that to find it in the IMDb app is a seek-and-find adventure that is often changing. In Callsheet, you can choose to place it front-and-center; it's the speech bubble with bullets inside it: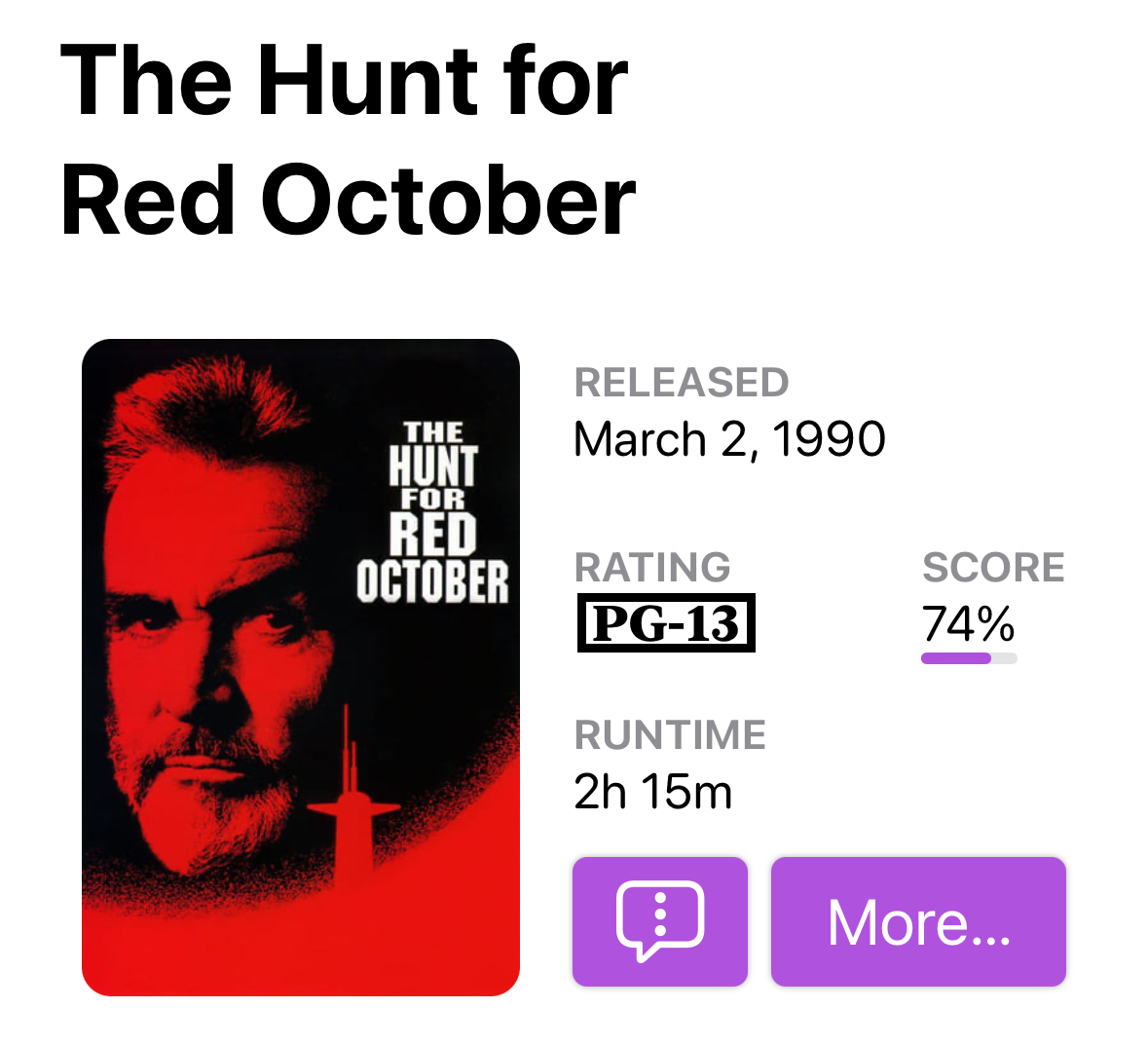 But not everyone cares about trivia. Using the Quick Access Link setting, you can choose what button is available for quick access: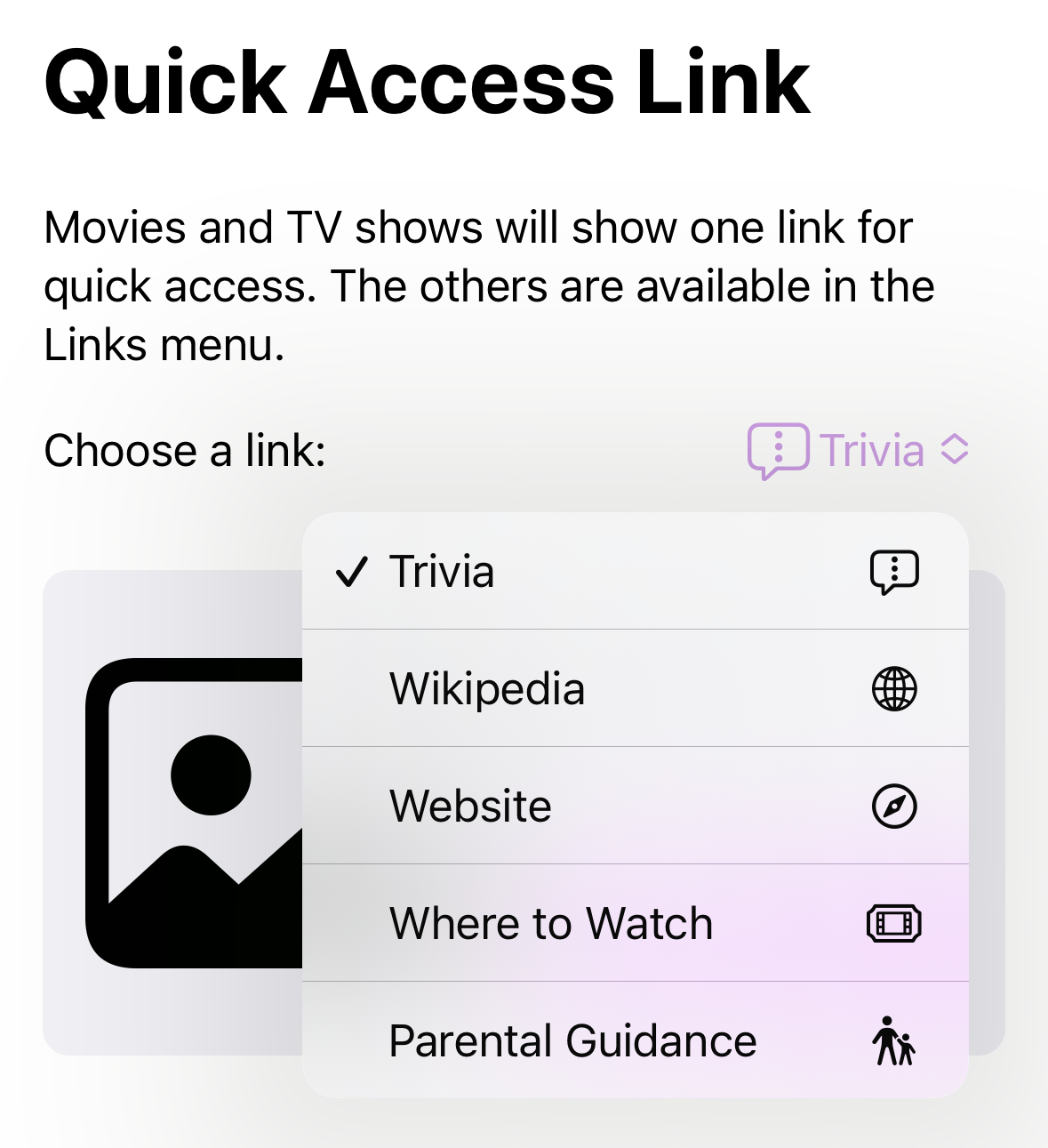 Whichever link you prefer is quickly available next to the More… button. This includes the oft-requested-by-beta-testers Where to Watch screen:
There are plenty of other useful features, like pinning items you want to refer to quickly and easily; iCloud-powered sync of your pins, spoiler preferences, and more; recent search history; locale and language customization, and more.
---
Callsheet supports iPhone and iPad, though improved iPad support is going to come ASAP. As mentioned, Callsheet requires a subscription, and is (at the time of this post) $1/month or $9/year.
Optionally, if you'd like to support me further, you can elect to subscribe at $20 or $50 per year. These optional tiers, listed under the More Purchase Options… link in the app, give you no additional perks other than my undying love. If you enjoy the work that I do, and wish to support me further, please feel free to choose one of those options. 😊 Again, all subscriptions come with a 1-week free trial for new subscribers.
Callsheet uses the wonderful The Movie Database as its backend. Their API is very good, very easy to write against, and leaves little to be desired. And more importantly, it's fast. Really fast.
---
An immense THANK YOU is owed to the people featured in the About Callsheet screen in the app. My family, most importantly, for all the love and support a guy could ever ask for. To my pal Jelly for making my craptacular icon mockup into something gorgeous. To my pal Ste for making the screenshots, with just the right amount of dad jokes in them. To my pal Ben for vastly improving the way Callsheet looks. To my pal Craig for both design and technical tips.
Also, to all the ATP members that also chose to beta test Callsheet. Having a big-ish beta testing pool was far more helpful than I ever imagined, and a lot of bugs were squashed, and features implemented, thanks to the tireless efforts of all of you. Thank you.
---
Some quick statistics, because I can't help myself:
Total commits: 727 (though there were many squashed merges)
First commit: 30 January 2023
Build for App Store: 27 July 2023
Days to first release: 178 days
Lines of code: 14,232 lines of Swift, 673 of Text/XML/Markdown, for a total of 14,905.
Beta builds: 102
First screenshot: Dated 3 February, and really basic