I freaking love Tom Bihn bags. I have a Cadet, which was my daily bag when I carried a 15" MacBook Pro. I have a Co-Pilot, which is what I use now that I'm flip-flopping between the MacBook "Adorable" and my 11" iPad Pro. I have various and sundry other smaller things that Tom Bihn makes, because I like bags in my bags. Yo dawg.
In addition to bags, I've always been pretty opinionated about wallets. I prefer to have as tiny a wallet as possible, despite wanting to carry a fair bit of stuff in my wallet:
Joint credit card
Joint debit card
Personal credit card
AAA card
Driver's license
Medical insurance card
Dental insurance card
Some cash
Yes, there are arguments that some of the above could be pared down — I'm looking at you dental insurance card — but that's the situation as I write today. (Yes, I carry cash. Yes, I judge you for not carrying cash. No, you'll never know when it comes in handy. Yes, it does more often than you think.)
Nik has come up with four different designs for his Minimal Wallet:
1: Two interior pockets, enclosing strap, and nothing else.
2: Two interior pockets, enclosing strap, but one pocket is see-thru.
3: Two interior pockets, one exterior pocket, enclosing strap, one pocket is see-thru.
4: Two interior pockets, one exterior pocket, enclosing strap, webbing loop for attaching the wallet to a clip.
Tom Bihn was kind enough to send me samples of wallets 1-3, and I do quite like all of them. They're all extremely light and thin, and available in (as I write this) nine colors.
For my needs, I prefer wallet #3. For 99% of the purchases I make with a physical card, I use our joint credit card. That card lives, conveniently, in the exterior pocket. On the interior, I have my ID and medical cards on the left hand side, and other cards on the right-hand side. Finally, the cash gets pinched in the middle.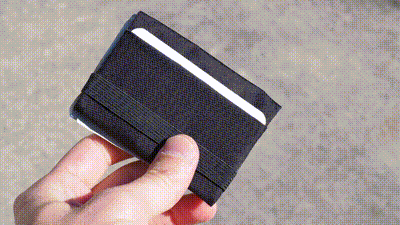 Everything I want. Nothing I don't. Light, easy, simple. No fuss.
At prices that range from $24 → $32, these wallets won't break the bank either. In fact, they're quite a bit cheaper than my previous wallet, in no small part because they're from here in the good ol' US of A.
The holidays are fast-approaching, and a Minimalist Wallet from Tom Bihn would make for a great holiday gift.