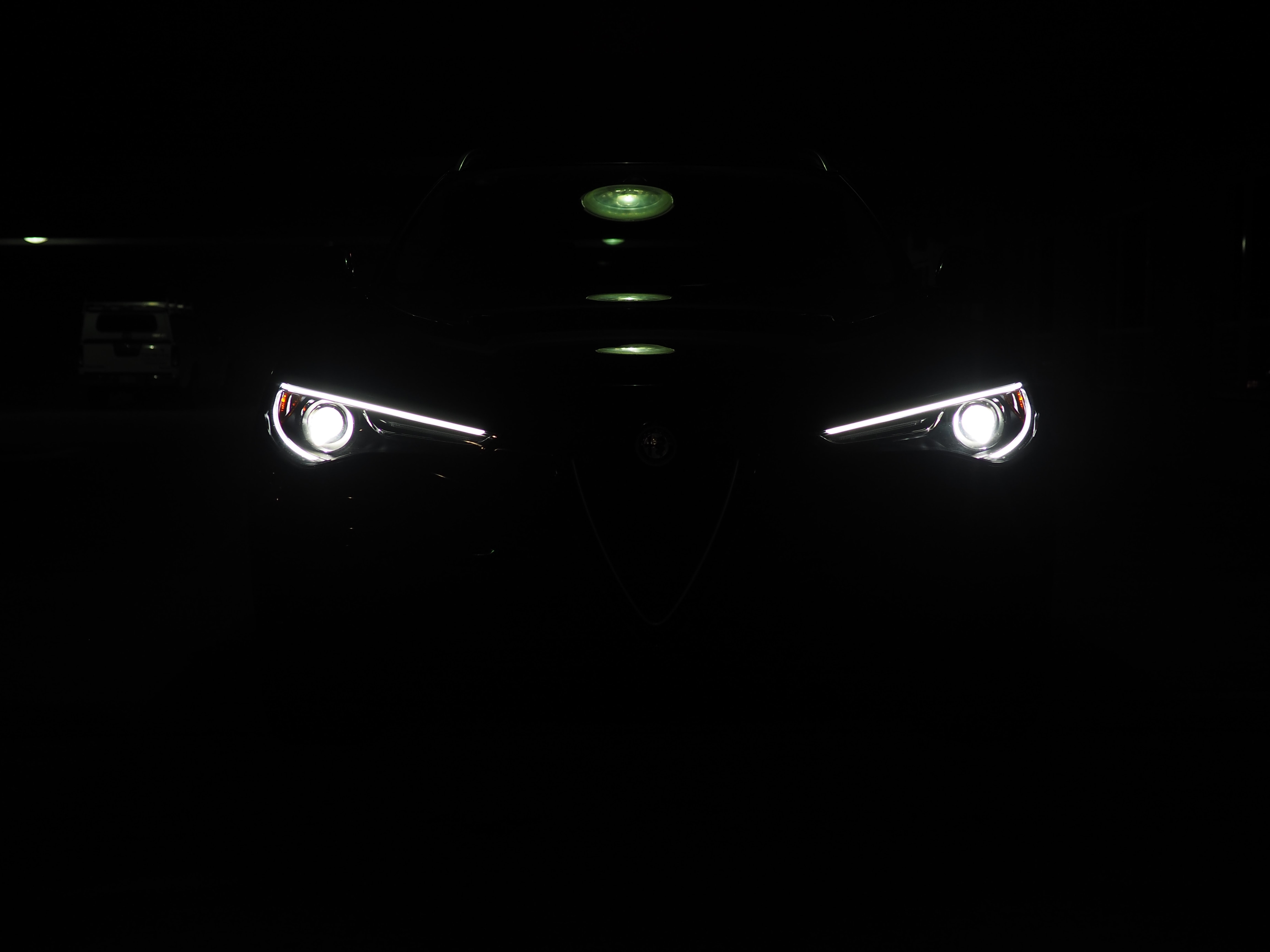 Despite being a bit overwhelmed lately, I wasn't about to pass up on the chance to take a week-long spin in another Alfa Romeo. Before, it was Alfa's hot rod sedan. This time, I was able to get seat time in their SUV, an Alfa Romeo Stelvio Ti.
Video
As with last time, I've put together a short video about the Stelvio. I'm pretty pleased with how this turned out; I've (mostly) sorted out my audio issues and have learned some new tricks. Just like last time, I'm happy to hear any constructive feedback that you may have, if you're intersted in sharing.
An Alfa Romeo… SUV?
Indeed. Take the Giulia that I tested a few months ago, lift it up, and hope for the best. Much to my surprise, most of these hopes were answered; the Stelvio was a stunningly passionate drive for what it was. SUVs are not supposed to be this, well, zippy.
The Stelvio's ~300 HP would be a lot for a sedan, but doesn't seem particularly overwhelming for a heavy, all wheel drive SUV. However, once the Stelvio's turbocharger started to make boost, it was surprisingly adept at getting out of its own way.
Most surprisingly was the Stelvio's sure-footedness on the road. Upon closer inspection, I shouldn't have been so surprised. The Alfa Romeo isn't the only thing named Stelvio: it bears the name of the Stelvio Pass. Avid Top Gear nerds may be scratching their heads right now, as this should sound familiar. The Stelvio Pass was — 🚨 SPOILER ALERT 🚨 — named by Top Gear as the best driving road in the world.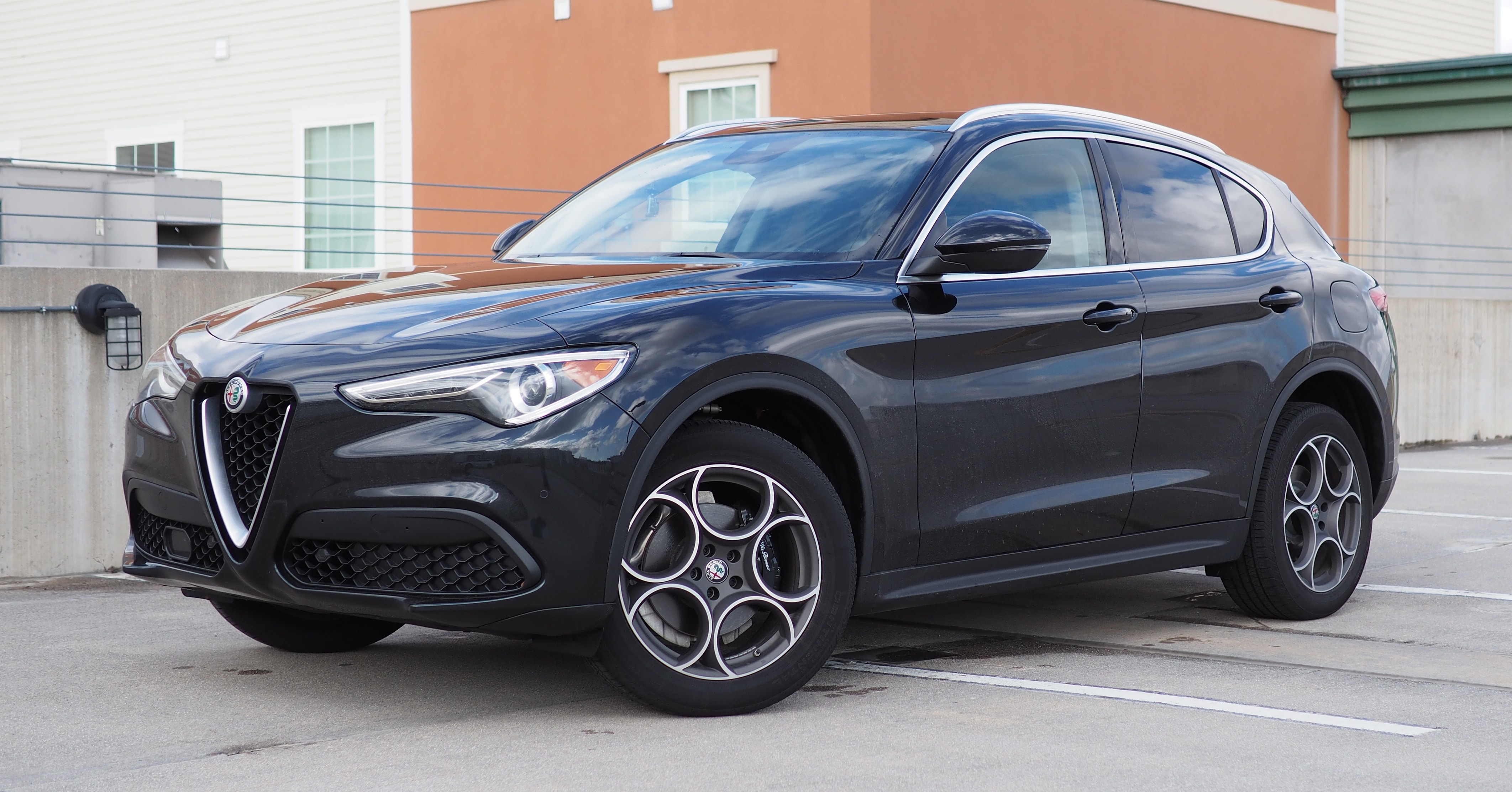 The Stelvio handled extraordinarily well given its height. I never felt like the center of gravity was at waist level, as I do in most other SUVs I've driven. In the Stelvio, I felt like the center of gravity was at the floorboard at worst. Body roll was virtually nonexistant.
All of this led to the Stelvio being a very confident drive. Generally speaking, I was only ever-so-rarely reminded that I was driving a tall SUV; left to its own devices my brain's autopilot computed turn-in speeds roughly equivalent to my BMW sedan.
One of the slogans for the Stelvio is The SUV for the S-Curves. As 🙄 eye-roll-inducing 🙄 as that may be, it proved to be absolutely true.
Interior
The interior in so many ways felt extremely similar. There were a few small changes on the inside, some of which were really wonderful.
Most notably the substitution of a truly lovely dark oak trim in lieu of the standard-issue hot-rod carbon fiber from the Giulia Quadrifoglio. I can't speak highly enough of this oak trim; it lent an air of sophistication to the Stelvio that a traditional dark wood trim would not have. Perhaps this is my bias against brown woods showing, but that oak was my favorite interior trim ever.
Additionally, the panoramic sunroof was nice. I dearly missed having a sunroof in the Giulia Quadrifoglio. Many of my friends prefer "slicktops", but to me, a car without a sunroof is not a car I want to own. The Giulia got a pass thanks to its tremendous drivetrain; the Stelvio would not have.
Thankfully, the sunroof is there, and it's huge. I was surprised by how little it would actually open — most of the sunroof area was non-moving glass. However, it was enough, and the powered sunshade was a really lovely compromise of light-permitting but not light-emitting.
Second only to the oak trim, I also really loved that there was a smartphone "holster" between the cup holders. You can see this in my video, and it's one of those great ideas that's obvious in retrospect. It's frustrating in my car that I don't have any particularly good place to lay my phone; the upright holster between the cupholders in the Stelvio was perfect, and damn clever.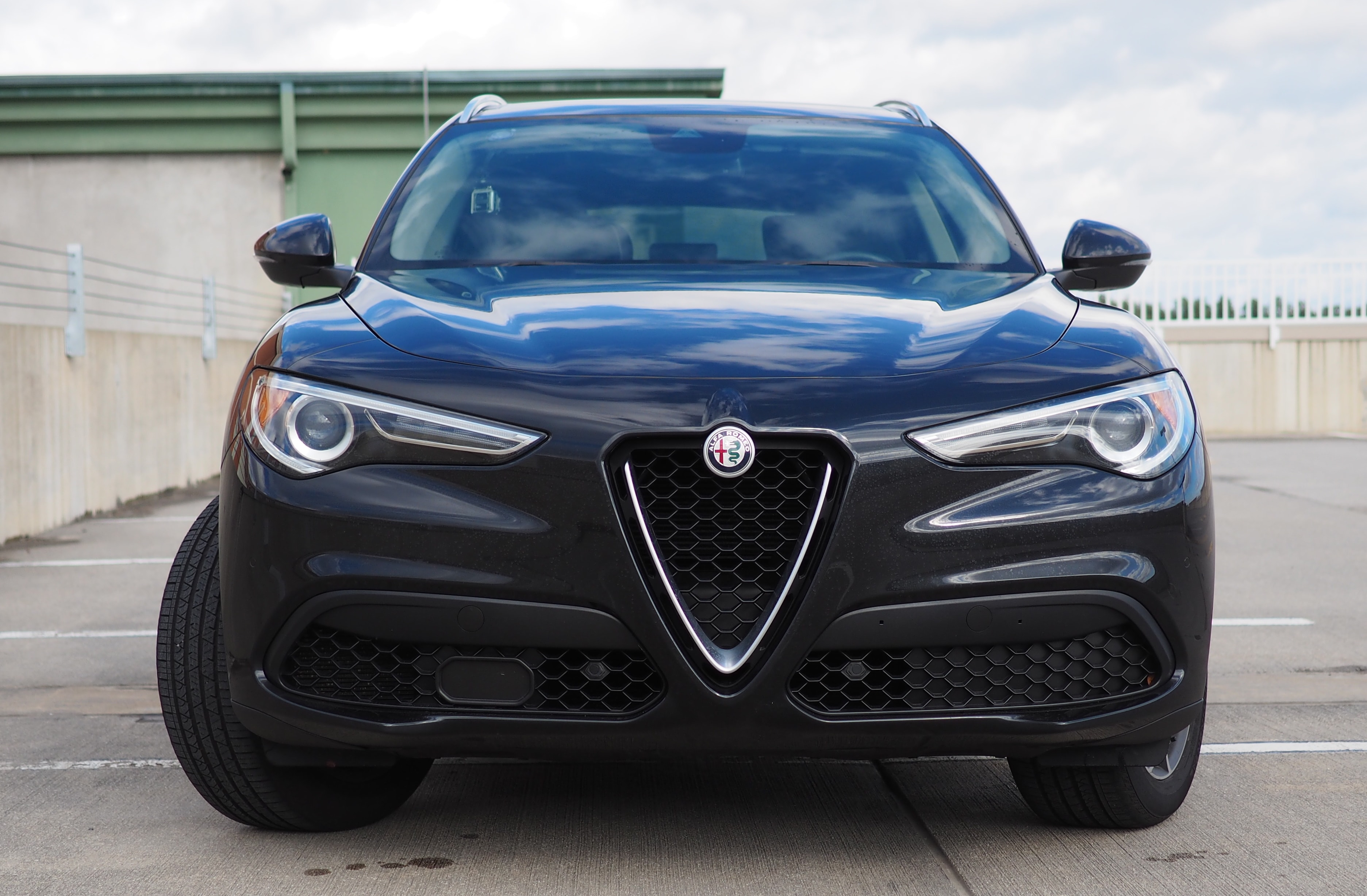 Well Actually
The as-tested price for my borrowed Stelvio was around $55,000. Not an entirely unreasonable sum for a modern, zippy, European SUV. However, there were some features that I felt should absolutely have been in this price bracket, but were missing:
CarPlay and/or Android Auto
(I should note it appears these are coming very soon)

A birds-eye-view parking camera

Autonomous driving features

Remote control via smartphone app
(Though the Stelvio did have a remote start button on its keyfob)
Some of these features can be had in entry-level economy cars for little-to-no extra money. To see them missing from a car that's north of $50k is more than a bit frustrating. Perhaps not a do-or-die issue, but it was enough to give me pause.
Conclusion
I'm not a SUV kind of guy. I like my cars low, fast, and reasonably small. The Stelvio, however, was very much the spiritual equivalent of that very set of traits. It was not huge, but not small. It was quicker than expected, if not outright fast. It handled stunningly well for a car as tall as it is.
So who is the Stelvio for? To my eyes, it's a great car for someone who would generally consider a BMW X3, but wants something, well, interesting. Perhaps you fancy yourself a connoisseur. Or maybe you just like to think different. Assuming modern Alfa Romeo can put behind the reliability gremlins of its past, the Stelvio is certainly an interesting choice, if nothing else.