Imagine you're in your freshman year of college. You're really into cars, and have been your entire life. Your wallet is poor, but your clock is rich. You enjoy BMWs—from afar—and have a favorite. That favorite is the E39 M5. One that you still dream of all these years later.
Out of nowhere, BMW releases a long-form commercial short film. Moreover, it's the first film in a series. A series called The Hire. That film, Ambush, was directed by John Frankenheimer, a famous movie director.
If you look closely, you can see the advertising peeking through the film. To my eyes, the clear highlight is the BMW 7 series' superior lights. In addition to, of course, it being an Ultimate Driving Machine. Despite these clear marketing ploys, I found the film to be just plain fun.
New films—dubbed "BMW Films"—were released every couple weeks. I waited for them like I waited for a new album from a favorite artist. I couldn't get enough of The Hire.
What's more, with each passing film, a new car was featured. It began with the aforementioned 740i, and continued in Chosen with the 540i—ever-so-close to my beloved M5. Next, The Follow with a mostly unremarkable 328i and then-still-impressive Z3.
Then came Star.
---
Directed by Guy Ritchie, and featuring his then-wife Madonna, Star was is everything I've wanted from about 7 minutes of film. Though it is a totally fun film, with a surprising amount of story for its short duration, there is one primary reason why I love it so much: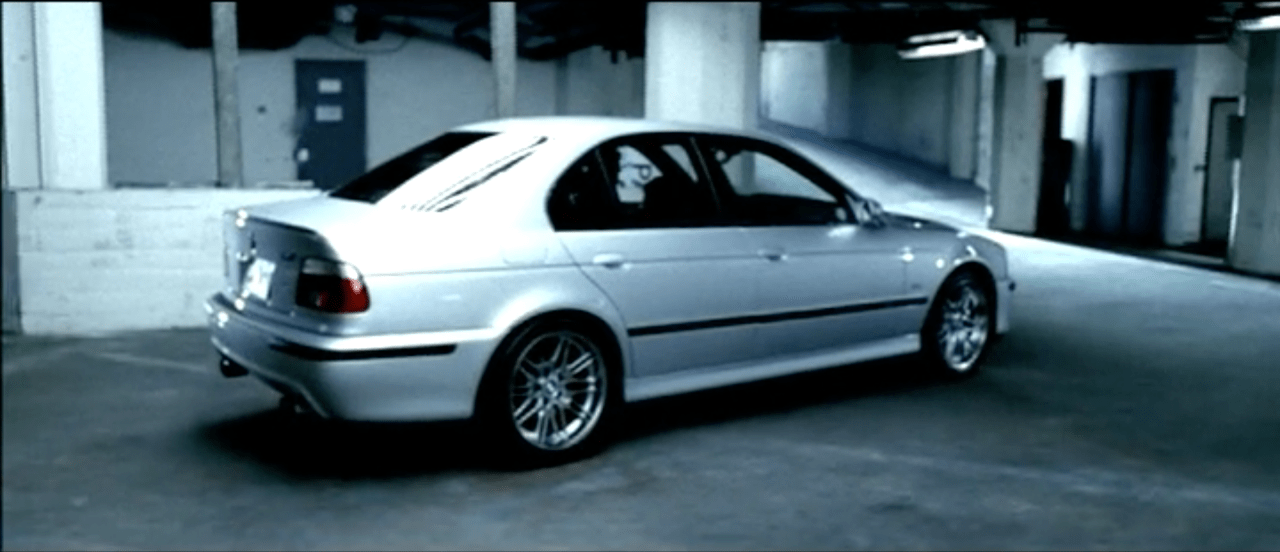 Guy Ritchie chose well. He chose the E39 M5. My favorite BMW, ever.
Things only got better from there. If you haven't seen the film, you should stop here and just go watch it. Go ahead, I'll wait. I didn't embed it here for a reason: you should watch it full screen, 480i be damned, and watch it loud.
---
Do you see what I'm talking about‽ You know things are going to get interesting when the first few chords of Song 2 begin. However, this shot removes all doubt:

Imagine me, car-obsessed, in my early 20s, watching this for the first time. Now, imagine me watching it over and over and over again. Because that's exactly what I did.
---
BMW ended up doing a second season of The Hire, but this time, instead of featuring various cars, they only featured the then-new Z4.
Of the second season, my favorite is far and away Ticker, written and directed by Joe Carnahan. Biases aside, it is probably the best of all the BMW Films. The audio direction in the opening, in particular, is so well done.
However, nothing can beat Star.
---
After the second season was completed, BMW actually offered a The Hire DVD anthology. For something like $10 shipping, BMW would send you a DVD with [almost] all of the BMW Films on it. Despite being a broke college student, I did exactly that. I still have the DVD to this day, and it is probably my most cherished DVD.
Last year, in 2016, BMW actually resurrected the BMW Films brand for their new 5 series sedan. The star of the series, once-unknown but now-famous Clive Owen, even reprised his role as the anonymous driver. While definitely in the spirit of seasons one and two, I can't help but feel like The Escape just doesn't quite have that joie de vivre that seasons one and two did.
---
The BMW Films did something that had previously only been accomplished by The Price is Right: they made a long-form commercial fun to watch.
I chose The Hire as my first things I like post for a reason. In the last week, Apple unveiled a short film about Siri that they filmed with The Rock. In every measurable way, I should have hated it. Yet, perhaps in part because of The Hire, I couldn't help but enjoy it.
I doubt there'll ever be a series of long-form commercials that are done with the respect and care that The Hire was. Nevertheless, I will forever hold those films as some of my favorite car-related videos ever.