As of a few months ago, I'm living an all-Retina life. I replaced my crummy Lenovo monitors I was using at work with a 4K screen. That gave me enough resolution to run pixel-doubled, which means my monitor at work is Retina.
Having a Retina-capable external monitor is magnificent. As an iOS developer, being able to run iOS Simulator on my external monitor, at full resolution, is completely freeing. For MacBook and MacBook Pro users, I can't recommend an external Retina-caliber monitor enough.
Recommendations
As I write this, there are three general options, that will work with most modern Macs:
Budget: LG 24UD58-B 24" 4K Monitor — ~$300
This is what I use at work. The stand is completely static; you cannot adjust it in any way other than tilt. The case is a shiny black, and there is a single LG logo on the front. The actual LCD is great.

Intermediate: Dell P2415Q 24" 4K Monitor — ~$370
The Dell is a slightly upmarket choice. It has better color reproduction and the stand is far more adjustable. The base is visually much louder, but otherwise it's fairly nondescript.

I Hate Money: Dell UP2715K 27" 5K Monitor — ~$1500
If you want something larger than 24", you'll need to jump to 5K. Which, in turn, means you're basically buying a 5K iMac but throwing away the computer part. This is super spendy, but it's surely a hell of a monitor.
Once you buy one of the above, you must plug in via DisplayPort. If you use HDMI, you'll run at 30 fps, which is awful. You can get a cable for Thunderbolt → DisplayPort from Amazon, or a USB-C → DisplayPort from Amazon.
Additionally, there are two options for those with a fancypants MacBook with USB-C:
I Dislike Money: LG UltraFine 4K Display — ~$700
This is the semi-official 4K offering from Apple. It connects via USB-C and also functions as a bit of a docking station. I've heard very mixed reviews of the LG monitors, but in principle, they sounds great. However, if your budget can allow for it, I don't know why you'd get the 4K and not the 5K.

I Really Dislike Money: LG UltraFine 5K Display — ~$1300
This is the semi-official 5K offering from Apple. All the benefits and drawbacks of the 4K display is applicable here as well.
You can see a bit more about all of your options—for any generation of MacBook or MacBook Pro—on the official Apple Support article.
Justification
So how did I land on these three? A combination of a little trial-and-error, in concert with some information from someone I respect.
The trial-and-error happened at work. We had a couple of screens that were larger than 24" and only 4K. It was quickly obvious that the ostensible point of Retina—not being able to see pixels—did not work at those sizes. Once you cross over 24", you absolutely must go to 5K.
In summary, if you want external Retina, follow these rules:
No more than 24" at 4K
For anything more than 24", go 5K
Use DisplayPort or USB-C
Peer Review
On a similar vision quest, Marc Edwards starting doing math, computing the pixel density of several popular displays. He eventually landed on this super-useful image which I've stolen appropriated from Marc's awesome post: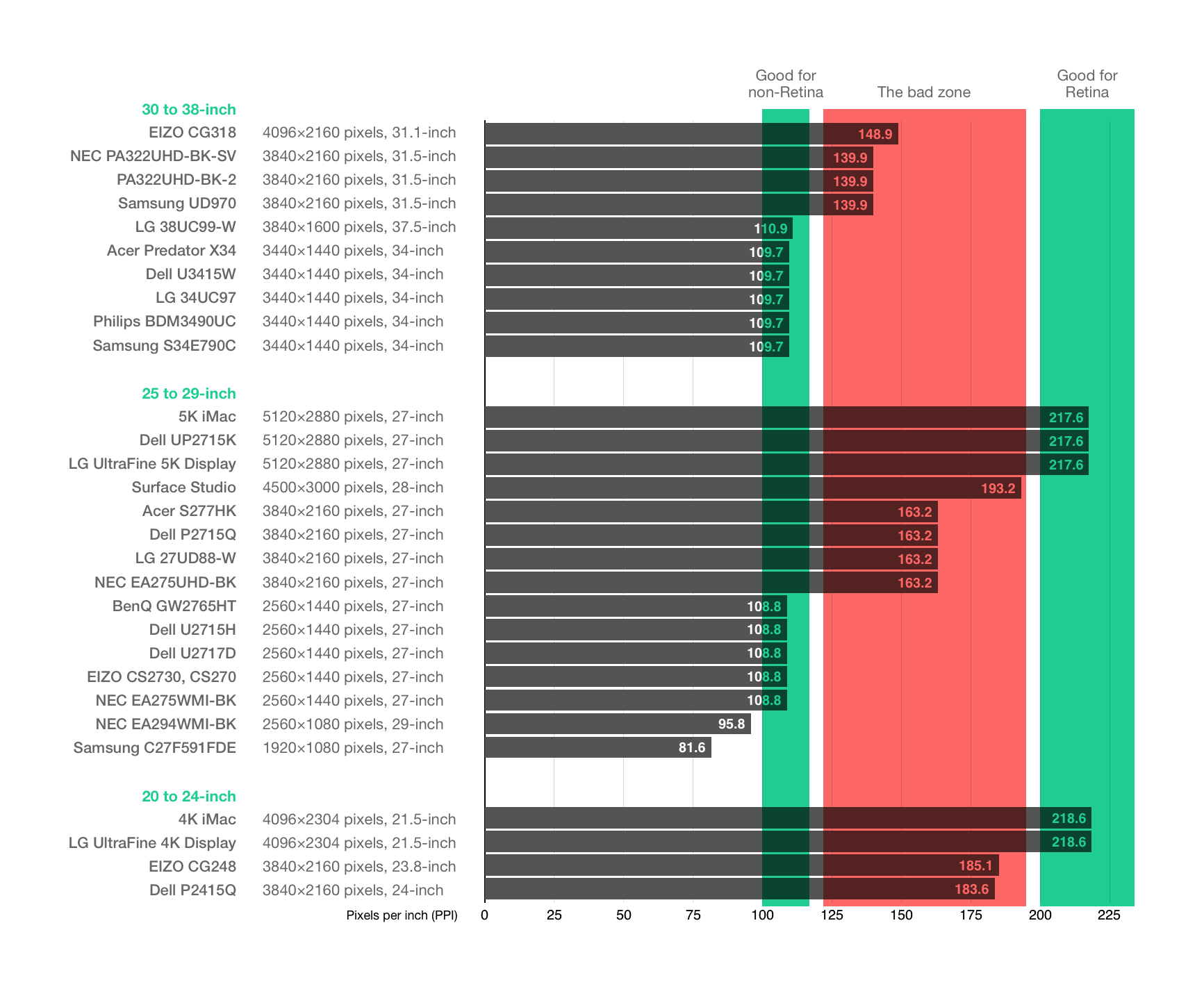 If you look at Marc's chart, you can see what the issue is. Displays over 24" that are only 4K land in "the bad zone"—more resolution than non-Retina, yet not enough to be full Retina.
Go Spend Money
If you're using an external monitor hooked to an Apple laptop, I can't encourage you enough to get yourself a Retina-capable one. You can spend as little as $300 or as much as $1500; choose the price that best fits your budget. Once you stop seeing individual pixels, you start to see how beautiful macOS really is.
As with all posts on my site, I've used affiliate links where possible. As with all posts on my site, these thoughts are 100% mine and are not paid for.