Way back during the Hypercritical days, my ATP co-host John Siracusa got to talking about, of all things, toaster ovens.
The toaster oven discussion started back in 2011 with a brief teaser in Hypercitical #12 (Overcast link). John says:
I need to put that on the topic list — why I hate all toasters.
A few episodes later, in Hypercritical #18, John lamented the state of toaster ovens of the day. This continued through the next two episodes.
John, being silly, dropped an implicit challenge during that episode (Overcast link):
If I come out of this podcast with a better toaster, I will consider it a rousing success.
An Aside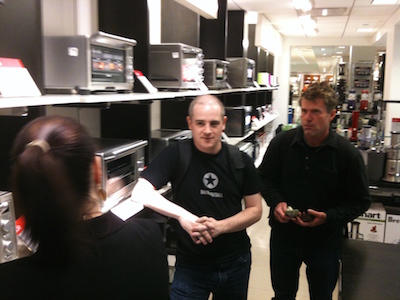 Back in 2011, I was an iPhone 3GS user, and aspiring iOS app developer. I decided to go to Apple's Worldwide Developer Conference for the first time. I only knew a couple of people, one was my good friend Marco. One day, Marco wanted to meet up with a friend for lunch and leave the conference, rather than eat in Moscone.
It ended up I knew who his friend was: it was Merlin Mann. Merlin had a tagalong as well; turns out™ this tagalong was also from Richmond, and Eric is now a great friend of mine.
The Purchase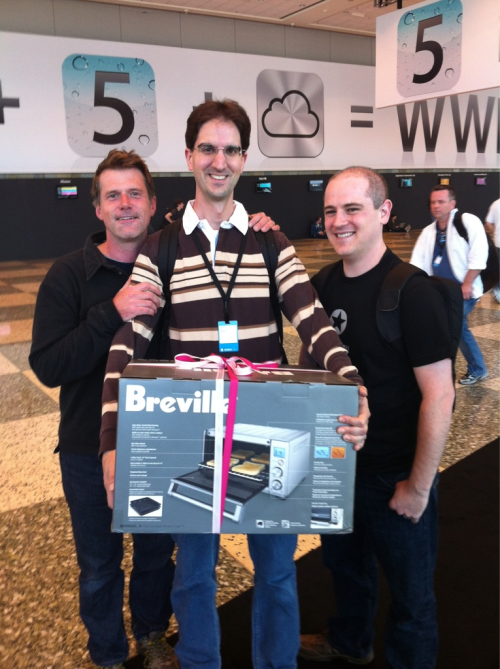 The four of us went to lunch at the food court at the Westfield Mall right around the corner from the Moscone Center. (Protip: listen to Merlin when he suggests food in San Francisco, even in a mall. Buckhorn's tri-tip was as delicious as he promised it would be.) During the lunch, Marco, Merlin, Eric, and myself discussed our love for John Siracusa. The next thing I knew, the four of us were in Nordstrom. Marco and Merlin found the toaster that John had his eye on, and purchased it.
The four of us marched back to Moscone, and Marco insisted John leave the session he was in to meet us in the lobby. There, Merlin and Marco presented John with his new toy. (Merlin, ever the gentleman, took the toaster back to Nordstrom to be shipped to John's home.)
The Idea
Fast forward four years. John, Marco, and myself are now hosting ATP. When Cards Against Humanity decided to sponsor our show, they decided as usual to eschew a normal ad read. Instead, they had a brilliant idea: CAH would send John a toaster to review.
We've been asked more than once to have a compendium of all of these reviews. This is it.
The CAH campaign is going to last through the year; I'll update this post as the remaining episodes are released.
My thanks to Cards Against Humanity for not only buying the ad spots, but also for coming up with such a clever idea, and letting us run with it.
The Episodes
UPDATED 23 September 2015 4:15 PM: Cards Against Humanity has taken it upon themselves to cut the relevant snippets from all of these episodes. They can be found on the Cards Against Humanity site.
UPDATED 13 November 2015 2:15 PM: As pointed out by Ry Amidon, and brought to my attention by John, the discussion started in Hypercritical 12. The above has been updated to reflect this.
UPDATED 11 May 2020 9:45 AM: Thanks to Fredrik Mellström, I realized I missed John's rules/criteria for toasters, which is in the ATP #103 after-show. It has been added as a second timestamp link in the table.
UPDATED 29 July 2020 10:15 AM: I was reminded by Ben Higgins that I never added the WWDC 2019 toaster.
UPDATED 1 September 2020 9:30AM: Some slight copy changes.
UPDATED 7 December 2021 10:45AM: Removed the now-missing Cards Against Humanity link.