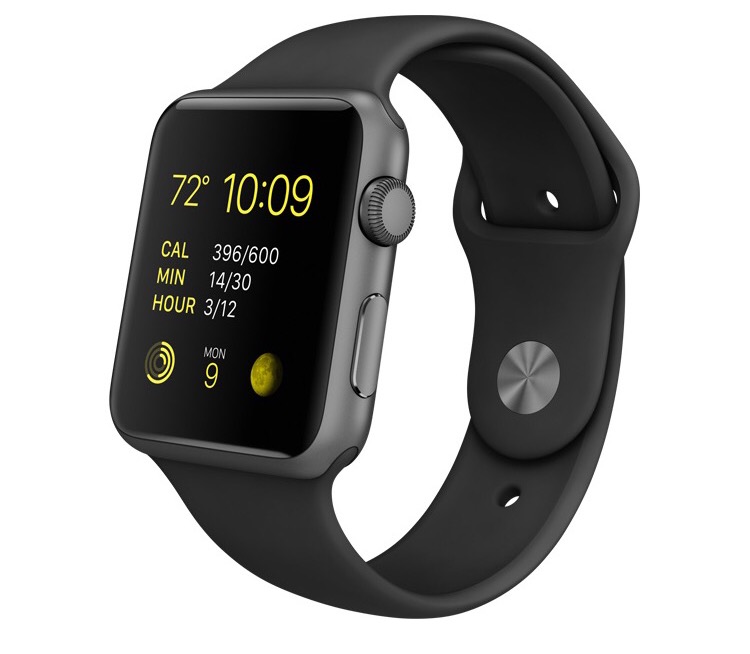 Let's get the claim chowder out of the way. Remember how I said – not once, but twice – that I wasn't going to preorder a watch?
I preordered a watch. The 42mm Space Gray Apple Watch Sport. I did so when I woke up at around seven Friday morning, and the watch is due to ship in June.
I'm a weak, weak man. Erin is both shaking her head in disgust and laughing at how predictable I am.
---
Today I had my try-on appointment. I had previously crashed Joel and Steff Housmans' appointments, so I knew what I was in for. Though I got to see and touch the ones he tried on, I had never had an Apple Watch on my wrist before.
Today, I was in a bit of a rush – a friend was in from Florida and with us, so I didn't want to bore him. I was able to try on a few combinations:
Additionally, I handled the:
First and foremost, Erin was quick to tell me that the 42mm was the right size for me. I'd say I have small wrists for a man, but I feel like every guy I know is saying that, so perhaps I'm wrong. Regardless, since I wear a 38mm watch every day, I was surprised that the 42mm felt and looked so at home on my wrist.
I liked the Link Bracelet, but it was noticeably heavy. Additionally, it was way too big on the sample watch. That's really unfortunate, as with fewer links in it, the fit would have been much better and the weight may have been more comfortable. I tried to smartly nudge the Apple employee into taking out a link or two – "These links are easy to remove, right?" – but he didn't bite. In the end, it struck me as a traditional link bracelet; I'm not sure from wearing nor seeing it what makes it as magical as Apple claims. Nor do I see how it justifies its $450 price tag.
All of you who say it's a band for old men are crazy. Sure it may look traditional, but I don't think it would look out of place on any man nor woman, of any age.
While I don't dislike the Leather Loop as much as Marco did, I definitely agree that it did not feel like leather to me. I also didn't care for the bumpiness of it. In fact, I think Stephen nailed it:
I was less impressed with the Leather Loop. It's very clearly a thin wrapping around a bunch of magnets. It wasn't uncomfortable, but it wasn't as soft as I was guessing it would be.
I really liked the Milanese Loop. I felt like it was easy to get on and off, and looked good. However, it felt natural to leave it just a touch loose, which probably isn't the right idea for the purposes of heart rate monitoring. Despite that, money no object, I think the Milanese was my favorite.
For the Sport Band, I had heard some rumblings that not all colors felt the same. Since I was curious, I tried on my preorder, which, um, sports a black Sport band. I then asked to simply hold the white band. Erin and I both agreed that there was a clear difference in texture between them. I vastly preferred the feel of the black; in fact, it felt really awesome, just as Gruber said. I did not try any of the other Sport bands.
I echo Marco's sentiments about it:
I also found it very annoying and cumbersome to attach — it seems designed for people with three hands.
I am sure that with a little practice I could get very adept at it, but it was nowhere near the ease of the Milanese Loop. Additionally, I'd say it was harder to clasp than my everyday watch's classic buckle. However, I am confident with time it would be a non-issue. I didn't have it on long enough to consider how sweaty it would make me. I'm actually more concerned about that than about the difficulty in putting it on.
The store didn't have my beloved 42mm Space Black Link Bracelet available for try-on. I left the Housmans' try-on really disappointed with the look of it. I was hoping for a really deep black, but it was more of a deep gray. Seeing it in the display case again, in different light, I liked the look more, but I remain surprisingly indifferent to it.
---
The most striking thing about my visit was that Erin seemed completely dissatisfied with any of the obviously feminine options. I agree with her. The Pink Sport Band is actually a salmon color. The Pink Modern Buckle was closer to cream than pink. All the others are either unisex or seemingly masculine.
This is a huge miss for Apple. For a device that they've marketed as their "most personal device ever", they've left disappointingly few options for women who like traditionally feminine colors, such as pink. I'm disappointed, in no small part because I suspect that if I had an Apple Watch and Erin didn't, I'd miss out on a lot of the cool more intimate features.
---
I also played with the demo unit again, briefly. This one seemed far more responsive than the one I used with the Housmans. I don't understand all the grumbling about the way the Apple Watch user interface works. It isn't an iPhone, so it doesn't work like an iPhone. That's okay. I already feel reasonably adept at the basic operations, and am not confused by when to use the Digital Crown, when to use the side button, where to find glances and notifications. The user experience I found to be easy to master if not easy to grasp.
This time, expectations lowered, I left thinking to myself this thing is cool. I liked the look of it when I had my preorder on my wrist. I like the thought of being able to piddle with the complications on the watch face until I get them just right. I like the idea of being able to figure out if something asking for my attention is important by quickly glancing at my wrist.
The problem that remains is the second thought I've had since I've left. The thought that keeps niggling at the back of my mind, and is louder than "oooh shiny!":
What is this going to do for me that I can't do already?
I haven't found a good answer to that question.
---
The Apple Watch strikes me as the next great frontier. In much the same way putting a computer with a built-in GPS in our pocket opened whole new doors, I suspect the Apple Watch will eventually do the same. I see that this is the future. I don't doubt it.
But is it worth spending, at a minimum, $400 today?
I'm unconvinced.
Sitting here now, I'm on the edge of canceling my preorder. The only thing that's stopping me is Apple's 14-day return policy – why not just keep it and try it for a week or two? Furthermore, one could argue I have an obligation to try it for the show, if only for a little while.
I can't help but think one final thought though: If I'm justifying this purchase with "meh, I can always return it…", is it really worth buying in the first place?