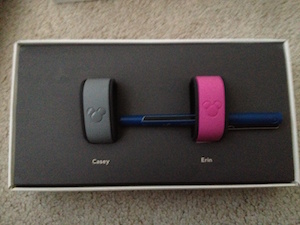 Wired has an excellent write-up about the process and thinking behind creating Disney's Magic Band. Eschewing credit-card style admission passes and room keys, MagicBands are bracelets that double as RFID tags. They're used to open your hotel room, enter the park, buy food, get Fast Passes, and more.
It's amazing what Disney can do when they know precisely where you are in the park. Using the example of a family walking up to a restaurant, where they had pre-ordered their meals:
Their MagicBands […] feature a long-range radio that can transmit more than 40 feet in every direction. The hostess, on her modified iPhone, received a signal when the family was just a few paces away. Tanner family inbound! The kitchen also queued up: Two French onion soups, two roast beef sandwiches! When they sat down, a radio receiver in the table picked up the signals from their MagicBands and triangulated their location using another receiver in the ceiling. The server […] knew what they ordered before they even approached the restaurant and knew where they were sitting.
Furthermore, this makes a tremendous difference in your Disney experience:
The redesigned Disney World experience constrains choices by dispersing them, beginning long before the trip is under way. "There are missions in a vacation," [Disney COO] Tom Staggs says. In other words, Disney knows that parents arrive to its parks thinking: We have to have tea with Cinderella, and where the hell is that Buzz Lightyear thing, anyway? In that way, the park isn't a playground so much as a videogame, with bosses to be conquered at every level.
Erin and I got to experience the MagicBands when we went in August of 2013. At that time, it was just a trial, but you could already tell it was going to change the way you interacted with Disney World. They really did remove friction — the only thing we needed during the day was the band. No wallet. No keys. No cash. No Fast Passes. No worries.