This Christmas, Erin went a bit crazy and bought me some goodies from Apple. The first I'd like to discuss is a new iPad Mini 4, with cellular.
An Aside: Why Cellular?
This iPad is my fourth. I had an original iPad, an iPad 3 (first with a Retina display), a "RetinaPad Mini" (first Mini with a Retina display), and now the Mini 4. Of those, the last two had cellular.
When I had my first two iPads, I frequently missed having an onboard cellular connection on them. I didn't make the same mistake for the first Mini. However, between the first Mini and this one, I dropped my AT&T unlimited plan, and thus can now tether. I really considered going Wifi-only again. However, I didn't want to regret it again.
In the first issue of the Six Colors Magazine, Jason Snell discusses making this call for his iPad Pro. Because he's awesome, you can read his post here, but take it from a subscriber: you should really subscribe. I'm already in for a year and am glad I did after only one month. Anyway, to summarize, Jason's justification was:
Having the iPad on a different carrier is often useful—sometimes you don't have service on one carrier but may on the other.
Not nuking both the host and client batteries while tethering is useful
To prevent against future regret, I opted for a cellular model again.
The Apple SIM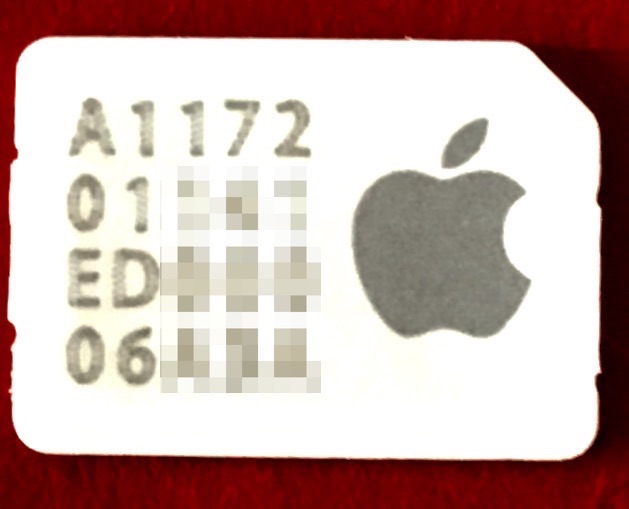 Since the iPad Air 2, Apple has included a special SIM card in cellular iPads. This SIM, called the Apple SIM, has a couple of neat tricks up its sleeve. First and foremost, it allows you to bounce between carriers without having to swap physical SIM cards. Furthermore, one of the carriers—GigSky— is specifically designed for international travel.
I knew the Apple SIM was a great idea, but I hadn't yet read a really solid summary of what one needs to know about it. What follows is my crack at providing exactly that.
---
My first curiosity when it came to the options the Apple SIM would offer: what carriers would be available?
In the United States, here are my options:
Will the Apple SIM Get Locked?
Another thing that was unclear is whether or not the Apple SIM is locked once a carrier is selected. It didn't seem too obvious to me until I checked out the options AT&T offered: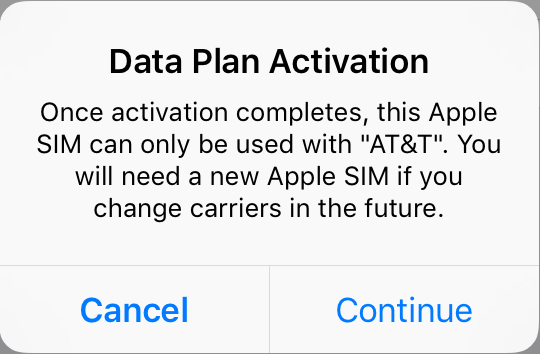 No other carriers showed such a warning.
Thus, it seems only AT&T locks your Apple SIM.
T-Mobile's 200MB Plan
I've evangelized T-Mobile's 200 MB for life data plan for a long time now. In short, they offer 200 MB of data per month, for free, for tablets, for the life of the device. I have a T-Mobile SIM I was using in my RetinaPad Mini, and I loved it.
Would that same SIM work in the new iPad?
I removed the Apple SIM, and inserted the T-Mobile SIM. It worked, no problem.
---
Next, I couldn't help but wonder:
Does T-Mobile offer their 200 MB for life plan on the Apple SIM?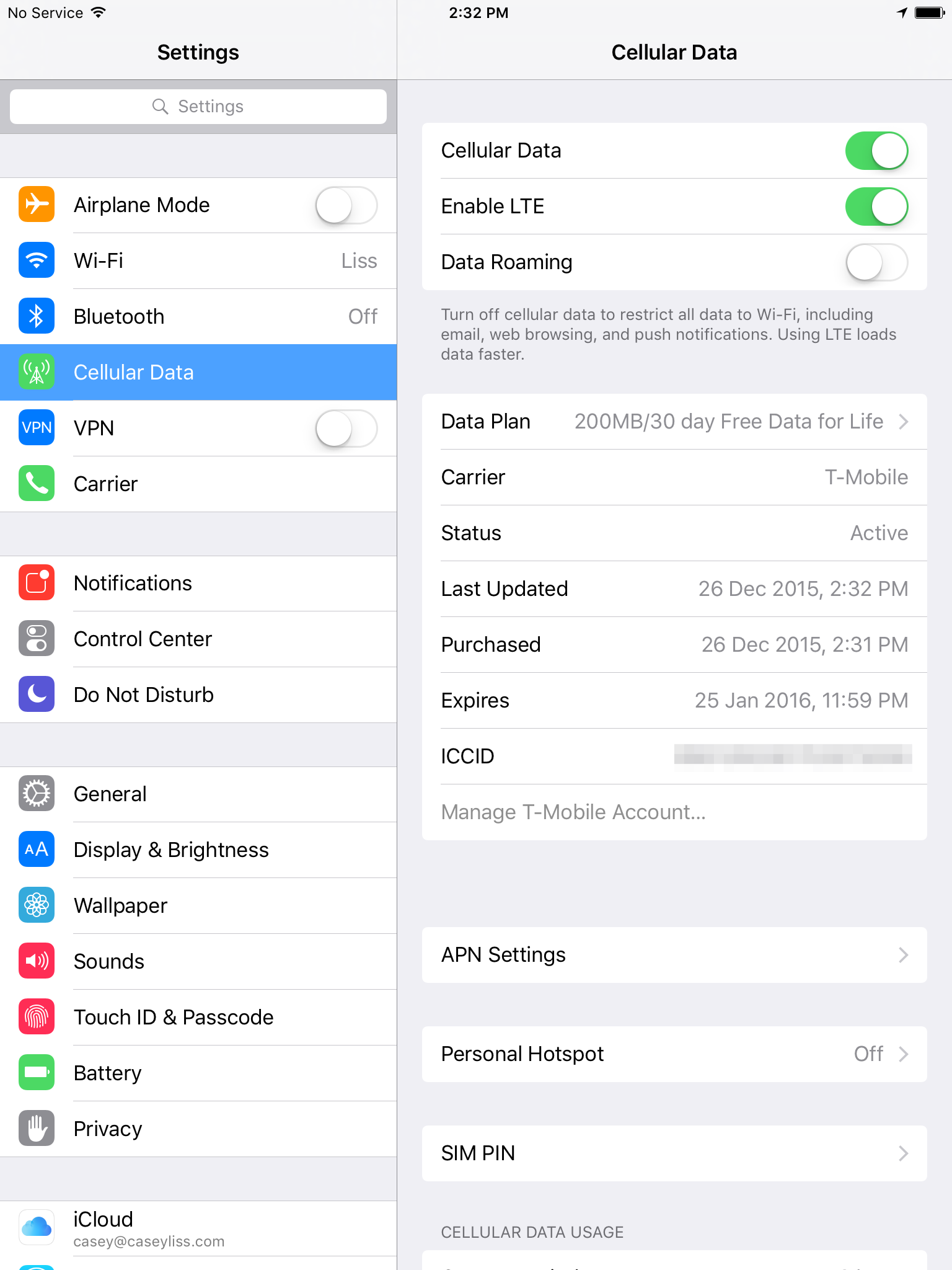 Yup.
Switching Carriers
Once I activated my T-Mobile 200 MB for life plan, could I simultaneously activate another plan?

Seems so. Once I tap the Add a New Plan button, I am presented with the same dialog shown in the first image above.
Wait a Second, What About Verizon?
Verizon has chosen not to jump on the Apple SIM bandwagon; to get your iPad on Verizon, you have to get a Verizon SIM card.
My RetinaPad Mini was a Verizon model, thus, it came with a Verizon SIM. I popped that SIM into my new Mini 4, and just like the T-Mobile SIM, it worked no problem.