I'm living in the future.
I've experienced Amazon Prime Now. And it's awesome.
Amazon Prime Now allows Amazon Prime members to order items and get free two hour delivery. For $8, you can get one-hour delivery on your items.
There are some caveats:
Prime Now is only in a handful of metro areas. As I write this, there are 20 areas that Prime Now serves.
You must be an Amazon Prime member.
Orders must be $20 or more.
You must use the Amazon Prime Now mobile app (App Store) to order. You can't order through the web.
The items available are a subset of what's offered on Amazon. It stands to reason only the items that are in your local Amazon depot are available for Prime Now orders.
A few weeks ago, Amazon Prime Now started service in Richmond. Tonight, I had a reason to use it. I needed something by tomorrow evening, and I didn't want to worry about it during work hours.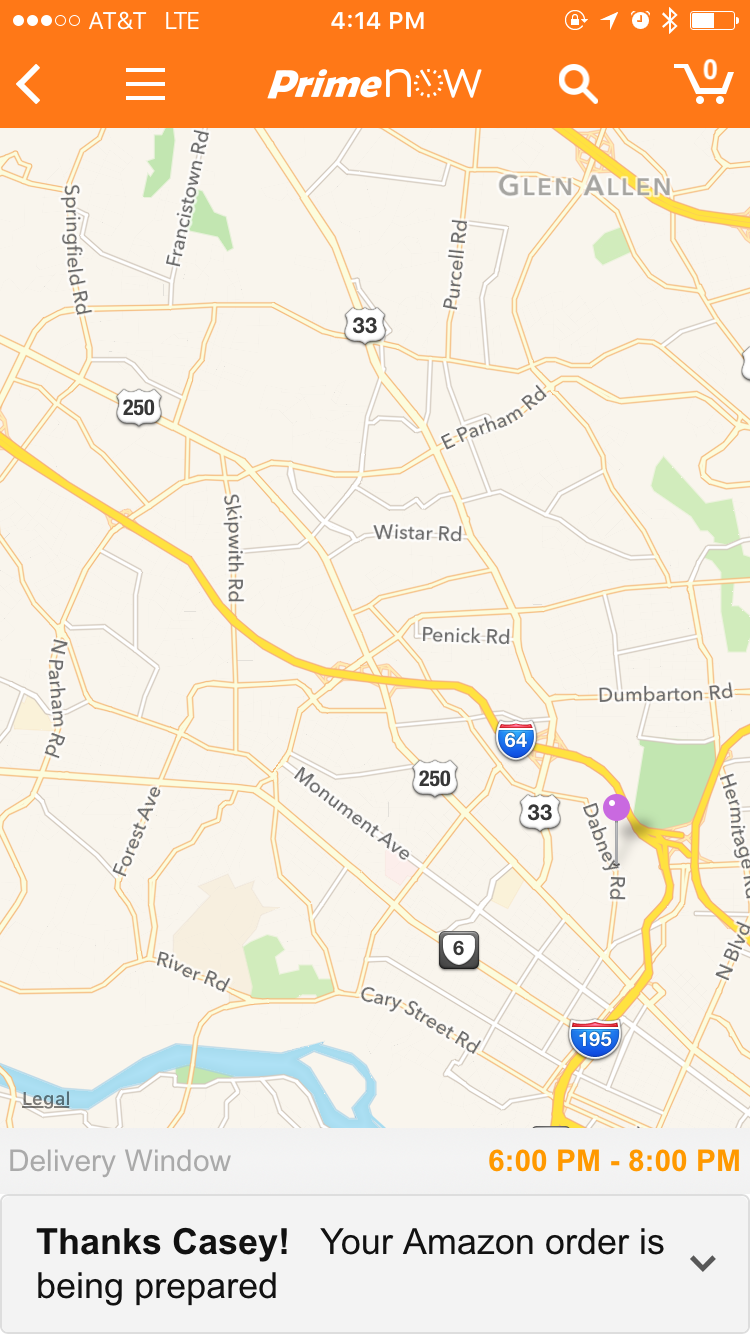 I placed an order for 5 items, all of which were physically fairly small, at just before 4pm. When I placed the order, I was able to choose a two-hour window for delivery. For delivery between 4pm and 6pm, it was $8 extra. For delivery between 6pm and 8pm, it was free. I chose the latter.
Deliveries run from 10am to 10pm, and I had the option of selecting a delivery window tomorrow.
A tip is strongly recommended; it must be charged to a credit card. You can't give cash, and you can't use a gift card balance. However, you can change the tip amount even for a little while after delivery. The app defaulted me to a 10% tip, rounded to the nearest dollar.
I had the option of instructing the driver to just leave the package, which I checked. As it turns out, when the driver arrived, he rang the bell anyway. There was also a field where I could leave delivery instructions, such as "use code 12345".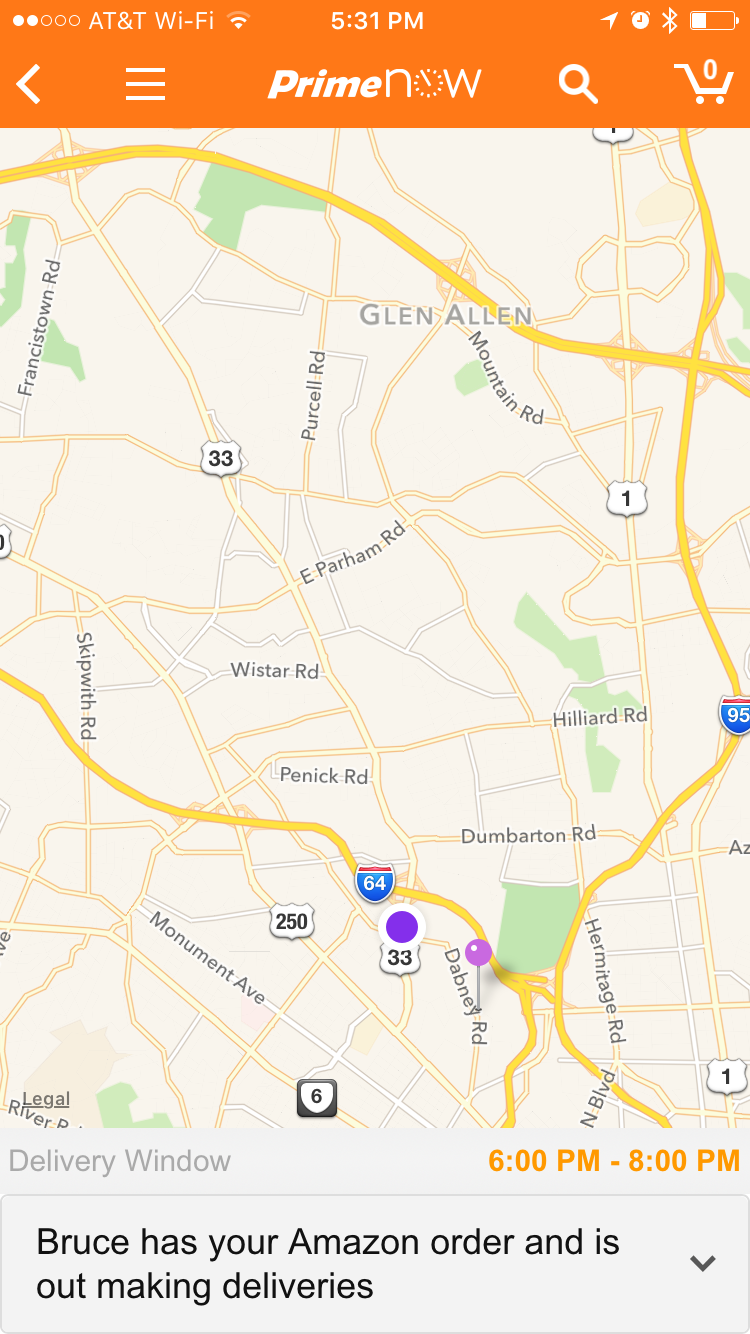 On the plus side, I knew exactly when he was going to arrive, because the Prime Now app allows you to track your driver in nearly real time. My experience was that the app would update the driver's location every minute or so.
I also received a text message letting me know when the driver was on his way with deliveries. From what I can tell, it was sent before he was on his way to my house — he was simply on his way from the Amazon fulfillment center.
At around 6:15, the driver arrived with the order I placed at around 4. Amazing.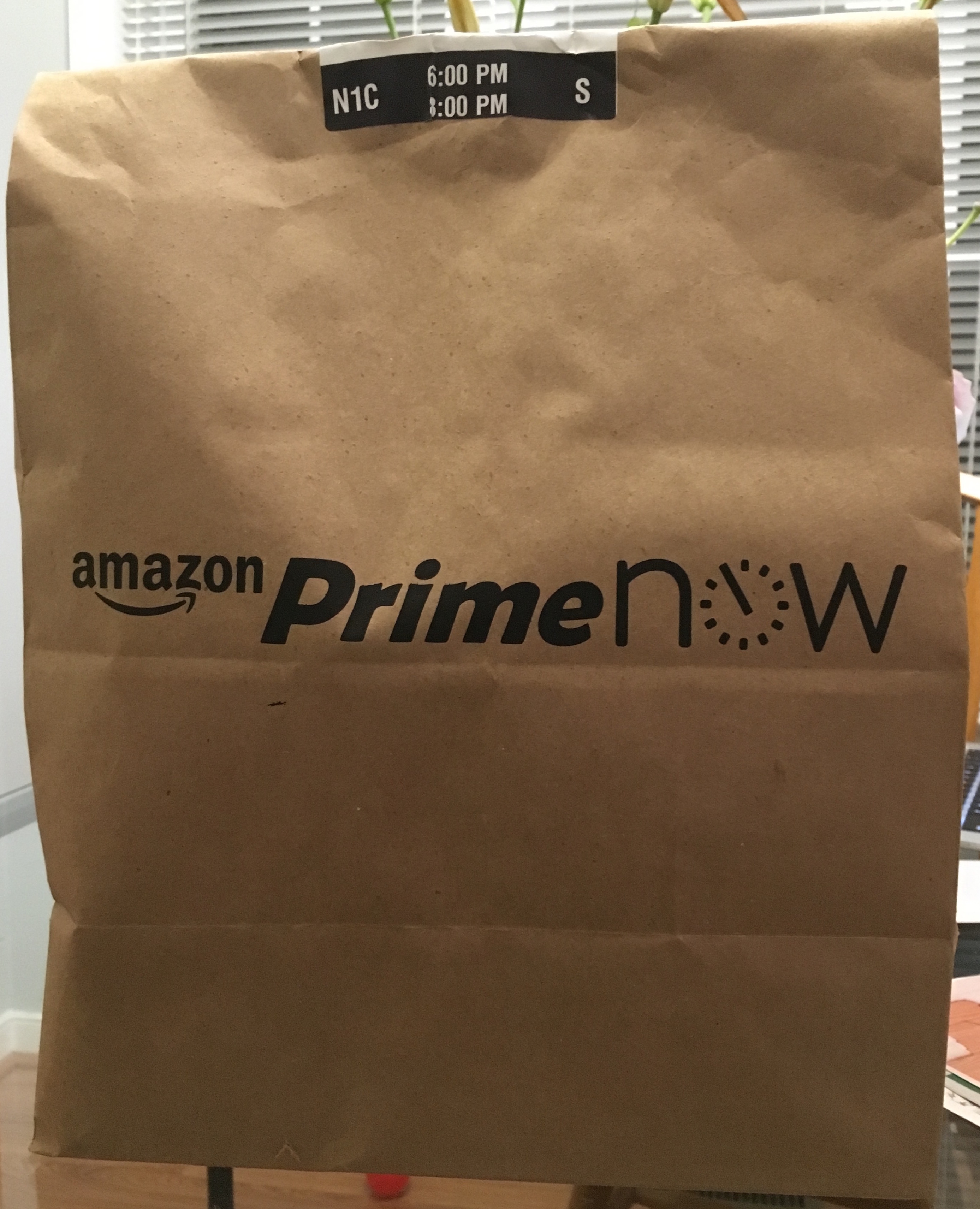 All told, the experience was really awesome. I didn't like shopping on the iOS app; I'd much rather use a computer. However, to get free delivery 2¼ hours after I placed an order is magic.
What's even cooler is, Amazon Prime Now also offers some grocery items as well. For example, I could order milk or orange juice for delivery. I could order toilet paper or paper towels.
For most essentials, I'm far more likely to go to the grocery store myself. However, even in a city the size of Richmond, it's not quite so easy to get your hands on a XLR microphone in two hours flat.
The future is now.