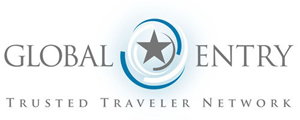 Last year, Erin and I interviewed for and received our membership in the United States Customs and Border Protection's Global Entry program. By being members of Global Entry, with that comes automatic enrollment in the Transportation Safety Administration's Pre-Check program. This year, we did the same for Declan.
In doing research about Global Entry, I didn't come across any particularly great summaries of what it is nor the application process. Hopefully, this post will fill that gap.
TSA Pre-Check has the following perks:
Dedicated and/or shorter security lines
When going through TSA Pre-Check lines, you don't have to remove

Belts
Shoes
Jackets
Laptop
Toiletries
In addition to the above, Global Entry has the following perks:
Segregated and shorter Customs lines
Entry interrogation by way of automated ATM-like machines
TSA Pre-Check costs $85. For a mere $15 more, you can apply to be a member of Global Entry. To my eyes, I don't understand why one wouldn't forego TSA Pre-Check and just go straight to Global Entry. Furthermore, American Express cardholders can get the fee reimbursed. (In our case, we paid for it, since we are not American Express cardholders.)
Once you're a member of Global Entry or Pre-Check, you get a "Known Traveler Number", which you enter during the reservation process as you're booking air travel. Upon checking into your flight, you will usually see a TSA Pre-Check icon on your boarding pass. This means you can go to the special speedy security line. If you don't get the TSA Pre-Check icon, you have to go through the normal line.
In the case of Global Entry, upon returning to the United States from abroad, you walk up to the special kiosks, make their customs declaration, scan your passport and fingerprints, and get a receipt. That receipt is given to the CBP officers before exiting into the United States.
Application Process
In order to apply for Global Entry, it's a multi-step process:
Fill out an application online, which includes such things as where you've lived and countries you've traveled to for the last 5 years, your work history, etc. At this point you pay your non-refundable $100 application fee.
Wait for your application to be reviewed. The review took less than a week.
If you pass the review process, you schedule an in-person interview. These interviews are typically at a large regional airport. For us, the nearest airport was Dulles, which is a little over 2 hours away. In our case, we had to schedule a few weeks in advance to get a time slot that worked for us.
Go to an in-person interview.
Wait for your interview results to come in. For us, we interviewed mid-afternoon and had our results a few hours later.
Receive your Global Entry card in the mail.
Excepting the interview itself, the entire application process is managed through the government's Global Online Enrollment System, or, GOES. This website is exactly as bad as you'd predict a government website to be. Nevertheless, it does the job… when the site isn't down.
It's also in GOES that you can go back and modify your information, such as updating your address, or your passport number. It's important to remember that when you renew your passport, your new passport does not share the same passport number, and you need to notify the government of your new passport number. This is also true for your mailing address, driver's license, etc.
The Interview
As mentioned above, interviews tend to be at large regional airports. For us, that meant the two hour trip to Dulles. Depending on the time of year, interview times may be available nearly immediately, and sometimes they may not be available for months. Erin and I interviewed in July 2014, and the schedule was largely booked for about a month. Declan interviewed (more on that later) in August of 2015, and there were plenty of spots open almost immediately.
In Dulles, the enrollment center was in the main terminal, in a hallway at the very end of baggage claim. When Erin and I went to do our interviews, there was a very passive-aggressive sign on the closed door that said, in so many words, "take a seat and someone will come get you when it's your turn; DO NOT KNOCK".
I found it extremely unnerving to just go sit in some hallway (on provided chairs) and hope for the best, but that's what we did. To their credit, a CBP officer came out at exactly our appointment time, and called our names. We then followed him into the enrollment center office, where we were told to watch a short video about how Global Entry works. When Declan interviewed, the door was open, sign gone. We entered the office immediately and waited in there, watching the same video.
For Erin and me, we interviewed individually but simultaneously. Though I don't recall the questions that were asked, they were all very basic. Things like where I've traveled, where I'm planning to travel, and my residential and criminal history. They also verified the documentation provided, which was things like your current passport, driver's license, and proof of residency. The CBP agent that interviewed Erin was considerably more punchy, and gave her a harder time, but nothing too egregious. During the interview they take your fingerprints, digitally, and take a picture of you.
For Declan, we were told during our interviews that he would also have to come interview. We found this a bit surprising, given he would quite literally have nothing to say, but we were assured it was the way things had to be. When we did come for his interview, only one parent was allowed back, though both had to be present.
During Declan's interview, the CBP agent verified his passport and birth certificate, and took his picture. Declan's fingerprints were not taken, since they will likely change so much so quickly. This means that, should we enter the country with him, the automated machine will reject him due to lack of fingerprints, and will be deferred to talk to an agent. I've read that when this happens, you will often be directed to the crew member line, and not the main line that everyone else is waiting in.
All three of us passed our interviews the first time, and were notified by way of GOES within a few hours.
It's also worth noting that while Declan does need to enroll in Global Entry himself in order for us to go through the segregated Customs line, he can ride with us on TSA Pre until he's 12. For example, from Virgin America's site:
Plus, passengers 12 years of age and younger are allowed through TSA Pre✓™ lanes with eligible guests
If you have a child that is traveling with you only domestically, you may find that getting them Global Entry is not worth your time nor money.
Using TSA Pre

I've only flown a couple times with TSA Pre-Check, but it's wonderful. Someone described it to me once as going back to the way things were before 9/11. I think that's a pretty great description. The lines are almost always shorter, and you don't feel like you're belching half your clothes nor the contents of your carry on onto the X-ray scanner.
We also got TSA Pre when traveling domestically with Declan. We specified him as a lap infant and he was allowed to go through TSA Pre without question.
Using Global Entry
Though I haven't had the opportunity to use Global Entry yet, my understanding is that it makes things quite a lot easier when entering the US. (Global Entry does nothing for you when leaving the US, though TSA Pre-Check does.) The advantages start on the plane, where you don't have to fill out that paper customs form shortly before landing — that is taken care of at the Global Entry kiosk.
Once you land, you walk up to a Global Entry kiosk. There, you scan your passport, your fingerprints, and you have your picture taken. You make your declarations on that kiosk. It will print a slip of paper instructing you to either hand it to an officer on the way out, or to wait to talk to an officer before leaving.
Should you need to talk to either a customs or passport control officer, you will nearly always find a shorter line. That line will either be exclusive to Global Entry, or shared with the aircraft crews. If there is no segregated line, you'll often get to jump the main line.
The friend who convinced me to get Global Entry in the first place has told stories of getting from the jetway to the outside air in Dulles in less than 10 minutes. Even as an American citizen, that's unheard of without Global Entry.
Side Perks
Despite what's hinted at above, Global Entry does actually permit some affordances when entering some other countries. This is either by way of a sort of reciprocity with Global Entry, such as Australia's SmartGate. CBP will also inform you when you're potentially eligible for an optional enrollment, such as the new UK's Registered Traveller program.
---
To me, it's worth giving up $100 and my fingerprints for far easier travel. Having had the taste of the good life, I plan to continue staying enrolled in Global Entry in perpetuity. Memberships only last for 5 years, so expect a follow-up post about the renewal process in 2019.