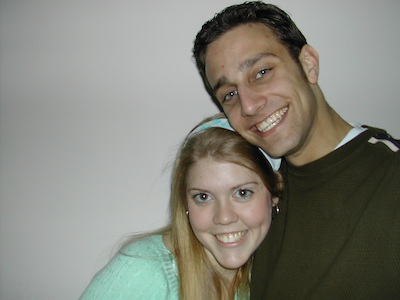 "Hey, Casey, I have a couple of friends that go to UVA. You mind if I ask them to go to dinner with us tonight?"
My friend Ben from school is coming down from the DC area to see me. We had already planned to go to dinner; he's just sprung on me that he would like to bring along a couple of friends. I learn they're friends of his from high school outside Richmond; as it turns out, they're both women.
"Sure, Ben, why not?"
A smart guy, Ben presents it as a coincidence that we're all going out; he just figured he'd see all his local friends at once. I later find out he's intent on setting me up with one of his friends.
It's January 2005. I've been living in Charlottesville for around 4 months. I'm fresh out of school and am working my first real job. My family lives 400 miles away in Connecticut. I'm, in more ways than ever, alone.
I'm okay with it though. I'm happy to have time to figure out what this new, adult, world is like. I wasn't looking to meet anyone. Which, if my experience is any indicator, means I was about to embark on something awesome.
I was.
I was about to meet my wife.
---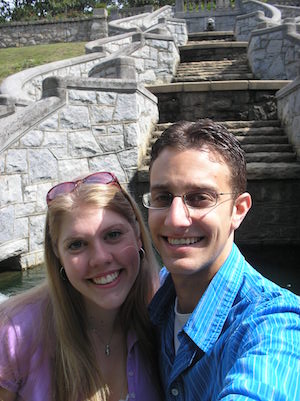 Fast forward a year and a half, and it's June of 2006. I'm nervous as hell, because I'm about to propose to Erin.
I had a grandiose plan, including stopping for our favorite bagels, but as it turns out we were up too early even for the bagel shop. I was trying to get Erin to Richmond — an hour away — by some absurdly early hour. I had arranged for early access to our favorite park, so the only ones in there were us and the maintenance crew.
I had this amazing vision of proposing to Erin at the gazebo next to the waterfall.
Turns out, some waterfalls have off switches.
In a move that I'd come to deeply appreciate, Erin shrugged it off, said "who cares?" and moved on with life. I so deeply admire in her that ability to let things roll off of her.
---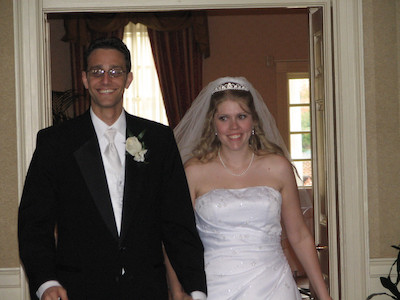 A year and change later, Erin is now my wife. It is absurdly, horridly cliché to say so, but it was one of the best days of my life. Planning a wedding, if you haven't tried it, is one of the most stressful things in the world. However, all our work was worth it. Our wedding went off largely without a hitch.
It rained that morning, and our wedding was intended to be outdoors. Erin's reaction upon realizing it's raining? "It'll be fine."
It was.
---
While another cliché, I mean it completely: I cannot imagine my life without Erin in it. Over the last ten years, we've been tremendously lucky. We've traveled to Europe on three different occasions. We've crossed the United States twice to visit California, and traveled to quite a few places in between.
So many memories were made on those trips. Every one of them, I absolutely cherish.
I also cherish the less remarkable memories, too. When I observed Erin teaching in her first year as a full-time teacher. Our trips to Sam's to buy stuff… and score free samples. Our shared love of crappy food like Cici's Pizza. Fighting an in-ground bees nest in our front yard by dressing up in as many sweatpants and sweatshirts as we could find, despite it being the middle of the summer.
---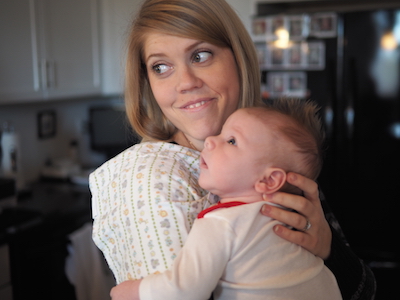 Now, ten years on, our lives and our relationship is changing dramatically. We aren't just in it for ourselves and each other; we now have our son to worry about. While bringing him into this world was almost impossibly difficult, I am so deeply grateful to have had such a great teammate with me on this journey. I can't imagine having survived this without Erin there to support me.
We still like to recognize our "dating anniversary"; we always have. In some ways, you could argue that it's even more important than our wedding anniversary. Without this day in 2005, there would have been no wedding.
How do you really describe what your wife means to you? There's a reason we all land on the same words and phrases.
She is my rock.
She keeps me sane.
She is my partner.
She is my best friend.
She is my everything.
They're all so overused, but I could (and do!) say every single one of them. I'm not sure how to most effectively describe what Erin has meant to me. To describe, in words, the profound impact she has on my life every single day. To share, in text, how seeing her in the morning brightens even the darkest of days. To relate how it melts my heart to see her taking such good care of Declan — of our son.
---
In the end, all I can say is that I'm so deeply, deeply lucky to have found you, Erin.
You make me a better man, every day. You have every day since we officially started dating — every day since 16 January, 2005. Every one of those 3,652 days, I've found a new thing to love about you. Every one of those days, I've looked so forward to coming back home to you and spending time with you.
For these last ten years, and for the many more to come, thank you. Thank you for being a part of my life. Thank you for making me better in every measurable way. Thank you for, as I love to say, cooking us a beautiful baby. Thank you for beating my ridiculous expectations and being an even better mother than I could have dreamed. Thank you for always being by my side, no matter what.
Thank you for being you — for being the only one for me.
I love you.