As someone who does not drink fussy coffee, fizzy water, nor have a clicky keyboard, I had an emptiness in my life. Clearly, I needed something to be fussy about.
On 28 August 2013, everything changed. I backed the Neat Ice Kit on Kickstarter.
10 months and 28 days later, on 18 July 2014, I received my Neat Ice Kit in the mail.
24 hours after that, I had my first brick of ice: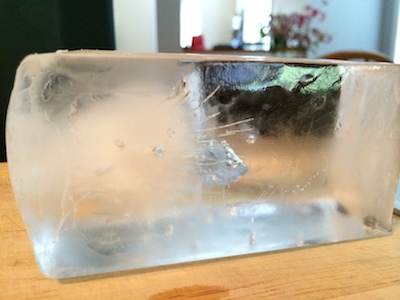 As you can see, half of this brick is cloudy and gross. But half is, as the guys at Studio Neat say, a big-ass crystal clear ice cube.
As you can see in the Vine below, a few minutes later I had a beautiful, crystal clear ice cube to pour my vodka over.
It. Was. Magnificent.
Over the last week I've been messing with my routine, in order to try to get the most reliable, well, big-ass crystal clear ice cubes.
While nothing particularly earth-shattering, here's a few tips:
Dan and Tom both recommend making your freezer as warm as possible. Ours can go as warm as 8° F; I've found 5° works well.
Using water from the fridge, which is filtered using an onboard filter, makes for some pretty great results. I haven't bothered messing with bottled, distilled, boiled, or otherwise fussy water sources.
The ice chisel has a sharp end and a not so sharp end. Do yourself a favor and make sure that you place the sharp end against the ice. Should you miss this step, as I did once or twice, you'll destroy the rubber on the muddler. Oops.
Most importantly: Once you remove the ice brick from the mold, let it sit for a little while. I've found 5 minutes to be a great compromise. This will make breaking the ice way easier. As Tom and Dan say, it will take very little effort to break your ice.
At the end of the day, I'm unconvinced that making my drinks with this fussy ice makes them taste any better. But the ceremony of forming the ice in advance, then splitting it when I want my drink, is really enjoyable. It's rather silly and a bit of a waste of time, and I love it.
Highly recommended.
Neat Ice Kits are not currently available for sale, but you can sign up to be e-mailed when they are.
UPDATED 2014-10-09 9:00 PM: The Neat Ice Kit is, and has been, available for sale for a while now. Thus you have no excuse; go get one.